If you own a property in Texas, you're probably always looking for low-cost, time-effective practices to implement. There are ways to avoid costly roof repairs and replacements for your building. You can save a substantial amount of money in the long run by taking preventative measures sooner rather than later.
Maintaining your commercial roof on a regular basis is an investment in the future of your building.
Keep Your Commercial Roof Clean
High winds and storms can blow unwanted debris onto your roof. The weight of leaves, snow and other elements can put an unsafe strain on your roof system. Dirt and grime accumulation can also hasten deterioration. These issues can be avoided by keeping your roof clean. While you can perform this service yourself, it may be best to hire a professional.
Regular (and thorough) Roof Assessments
Inspect your commercial roof at least twice annually. A professional roofer should conduct the evaluation because they can spot problems that an untrained eye cannot. They will also be able to suggest solutions if any problems arise. During an evaluation, a roofer looks for signs of damage, proper ventilation, any blockage in drains and downspouts, and any gaps or tears in the roofing system.
Minor Repairs To Your Commercial Roof
While putting off a minor repair may appear to be a cost-cutting measure, it can result in a costly bill the longer it goes unfixed. Repairing a problem as it arises will help to extend the life of your roofing system. Roof blisters and splits can be repaired with high-quality polymer-modified mastics. The best practice is to call a professional roofer regardless of how minor or significant the problem is.
Protective Coatings for Commercial Buildings
Roof coatings can be extremely beneficial in the long run. It will shield against UV rays and other environmental factors. This barrier will be critical in preventing tears, cracks, splits, and leaks on your commercial roof. Various coatings have an impact on price, quality, and aesthetics. Make an appointment with a professional roofer to discuss coating options for your roofing system.
Prepare Your Commercial Roof For The Seasons
Some seasons, depending on where you live, can put your roofing system at risk. As a property manager, you should be aware of any natural disasters, such as hurricanes and tornadoes, as well as more common conditions, such as rain, snow, and winds. The winter season usually brings the most severe damage. The weight of snow, the freeze-thaw cycle, and the formation of ice dams are all immediate indications that a professional should be called in. If any of these conditions exist on your building's roof, improper water drainage or cave-ins may occur.
Save All Repair, Maintenance and Assessment Records
Because property managers, building owners, and tenants can all change yearly, keeping organized records of roofing documents is absolutely essential. Included should be the original roof plan, warranty documentation, repair records, and equipment installation. This is useful for historical purposes, but it will also help you plan for the future integrity of your building.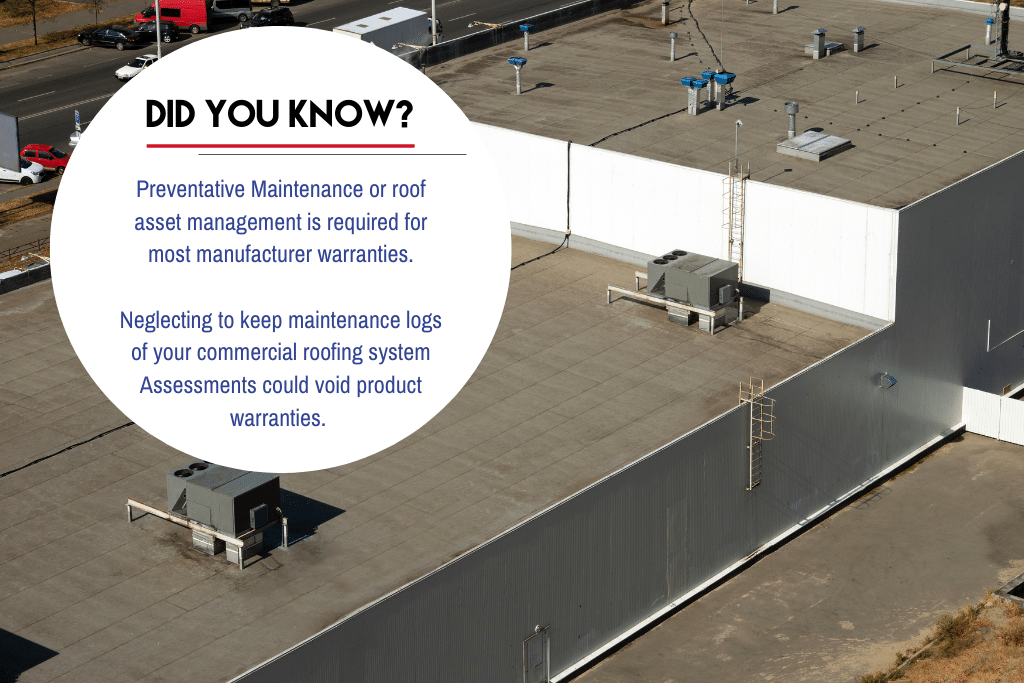 What To Expect From A Preventative Maintenance Check
During a commercial roof asset management check, a Texas Select professional will look for:
Areas where water can pool
Debris, such as tree limbs, dirt and loose gravel
Holes, cracks, tears or seams lifting up
Missing gravel and other materials such as exposed felt
Discoloration, such as where moss or algae has grown
If a problem is identified, your Texas Select roofing professional will suggest the best course of action to get your roof back in prime condition.
To get started with preventative maintenance for your commercial roof, contact your local Texas Select Roofing & Construction experts by phone or online.
We are DFW's most trusted roofing company, servicing all of Texas with a customer-centric approach.
If your building and roof have seen better days, you cannot afford to wait much longer. Call roofing provider Texas Select Construction at 817-770-0744 for fast assistance. We've helped many Fort Worth businesses of all sizes with their roofing needs, and we can help you too. Invest in a commercial roof that will last a lifetime! Contact our experts today.