A Leader in Asphalt Shingle Roofing in Fort Worth, TX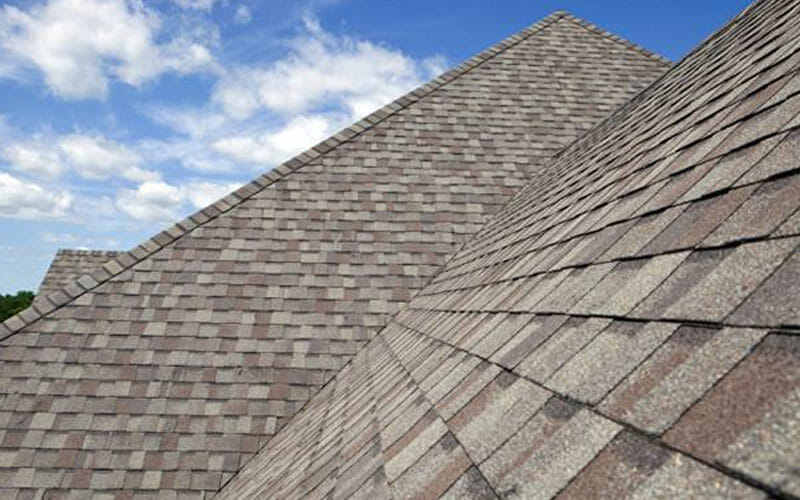 If you're in the market for a new roof, there's a good chance you're looking at asphalt shingles. The material dominates roofing, with three-tab and architectural shingles among the most popular varieties. Regardless of which style you ultimately select, the material provides a versatile and cost-effective solution with straightforward installation.
When people want asphalt shingle roofing in Fort Worth, they contact Texas Select Construction. We provide high-quality roofing at the lowest possible prices, along with unparalleled service and professionalism. Give us a call to speak with a roofing expert today.
Types of Asphalt Shingle Roofs
Three-Tab Asphalt Roofs
Three-tab shingles meet at the intersection of affordability and functionality. The basic design makes the economical option last up to 20 years, and provides fire, hail, and UV light resistance. Their crisp horizontal appearance also provides a defined and uniform look to your home.
Three-tab shingles perform admirably against the elements and is wind-resistant up to 60 mph. Many models come with warranties ranging from 20 to 30 years, though the specific length depends on your roofer. If you want a reasonable asphalt shingle roofing in Fort Worth, you'll have a hard time beating three-tab asphalt shingles.
Architectural Asphalt Roofs
Three-tab shingles have one layer of asphalt to protect your roof. If you're looking for a sturdier option, architectural shingles are 50% heavier and feature multiple layers. Manufacturers laminate several slices together to increase resistance to weather and wear and tear. 
A leading version of the architectural shingle is the dimensional shingle. It delivers up to 30 years of protection and comes in a variety of textures and colors. While they cost more than their three-tab counterparts, the longevity will offset the initial investment. 
Fiberglass Asphalt Roofs
Fiberglass asphalt shingles contain woven fiberglass with asphalt, waterproofing materials, and ceramic granules on top. The fiberglass base provides strength and durability, so manufacturers do not need to apply as much asphalt as they would for other shingles. This composition means the shingle has more malleability and higher fire resistance than comparable materials.
Organic Mat-Based Roofs
Manufacturers leverage recycled materials to create organic mat-based roofs. They apply asphalt and waterproofing on top of a felt paper before applying ceramic granules. The material contains 40% more asphalt than fiberglass shingles, which are lighter and more flexible.
Benefits of Asphalt Shingle Roofs
Affordability
While there are many reasons to select asphalt shingles, affordability stands out as a driving factor for many homeowners. Asphalt shingles are one of the cheapest roofing materials, making them a trendy choice among budget-conscious consumers. Here are some of the prices for the most common shingles per square:
Three-tab asphalt: $70 to $100
Architectural: $100 to $160
Corrugated steel: $100 to $200
Stone-coated steel: $200 to $400
Standing seam: $400 to $700
Tin: $350 to $1,500
Copper: $700 to $900
Zinc: $700 to $900
Versatility
Asphalt shingles come with various designs, with some dimensional shingles mimicking the appearance of cedar shakes and slate. The versatility lets you put a personalized touch on your roof's style and texture. Asphalt shingles have an endless library of colors that dwarf the selection of other roofing materials.
Swift and Straightforward Installation
Even the heaviest asphalt shingles are a fraction of the weight of their shake, tile, or terra cotta options. The flexible design makes asphalt shingles easy to manipulate and form into various shapes and angles. It also cuts down on the installation time and makes repairs or replacements straightforward for Texas Select Construction roofers.
Close
How much does an asphalt roof cost?
Asphalt shingles come with nuances in weight, design, and style that dictate their price. Architectural asphalt shingles have multiple layers for a dense construction, so a square costs $100 to $160. Three-tab asphalt shingles have a single layer and retail for $70 to 100 per square.
How long does an asphalt roof last?
We suggest replacing your asphalt roof every 12 to 20 years. Some variations, like architectural shingles, can last upwards of 30 years with proper maintenance. You may notice signs of wear and tear before the shingles expire, including blisters, curling, cracks, and bald spots.
What colors do Texas Select Construction offer for asphalt shingles?
We have an extensive inventory of asphalt shingles, which includes every color under the rainbow. Many homeowners prefer neutral colors, including black, brown, red, and grey. If you want to learn more about our shingle selection, call or email Texas Select Construction today.
Texas Select Construction is your Fort Worth roofing company that's committed to providing the local community with only the best in asphalt shingle roofing. We'll assist you every step of the way, and our top-rated team is sure to do excellent work. Using quality materials and settling for nothing less than exceptional quality, we're confident you'll be thrilled with your new roof. You can opt for metal roofing if you're looking for durable, eco-friendly, and affordable roofing material.
SCHEDULE YOUR FREE ROOF INSPECTION TODAY!
Hire A Team of Roofing Experts
You Can Trust