Multi-Family Roof Installation
A Premier Multi-Family Roofing Contractor in Fort Worth, TX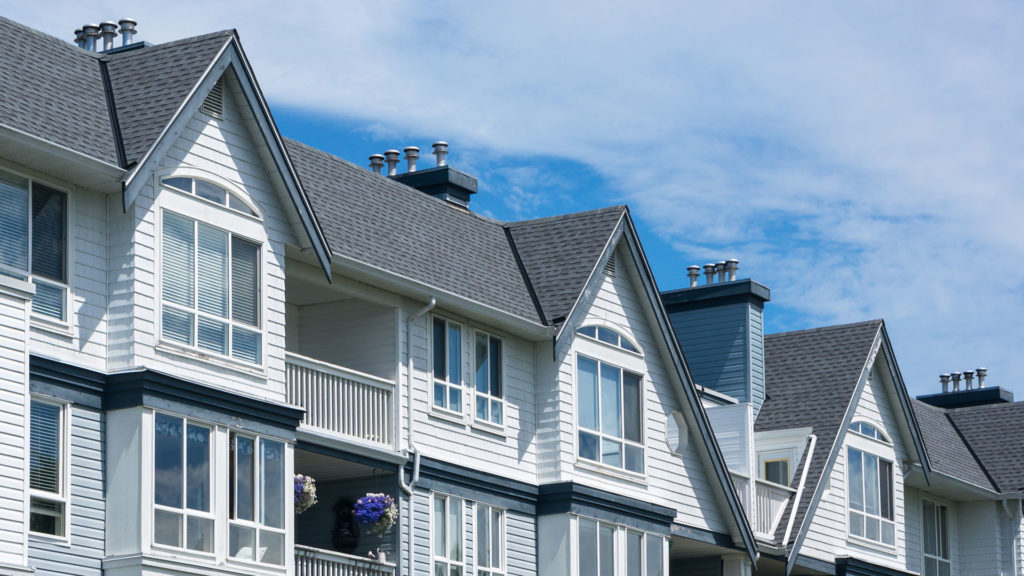 When you own a rental or multi-family property, it's essential to protect your investment while providing the residents with safe living conditions. A damaged roof can cause problems that endanger the residents and cost you significant money to fix. Don't wait to obtain the services necessary to increase the lifespan of the roof on your multi-family property.
At Texas Select Construction, our team of Fort Worth commercial roofing experts understand the elements that damage roofs and reduce their effectiveness. Our trusted professionals can help keep the roof on your multi-family home or building in tip-top shape. Call us today at 817-770-0744 for a consultation or free inspection to learn more.
Our services for multi-family properties fit any budget, style, and aesthetic. No project is too big or small for us to handle. Our team can guide you through the entire project to advise you of your options and suggest the roofing solutions suited to your needs.
 The following are some of the roofing services we provide at Texas Select Construction.
Installing a new roof on your multi-family property requires careful consideration. You must determine what will work best for the type of home or building you have. We can work with you from the beginning to ensure you pick the necessary materials to protect your residents and property from the outside elements while staying within your budget.
We won't suggest services unless necessary. Our team doesn't believe in upselling our customers on products they don't need. We can assess the health of your roof to determine whether it requires a total replacement or repair. Sometimes, a repair is all you need to keep your roof sturdy and strong. 
Texas Select Construction can install an entirely new roof on your multi-family property if necessary. Repairs can effectively address some damage, natural wear and tear, and other issues. However, sometimes replacements are the only way to fix extensive problems. We can install a brand-new roof that will last anywhere from ten to 40+ years, depending on the design and material you choose. We will explain the options that meet your budget and complete the project within your expected timeline. We pride ourselves on providing excellent customer service, and we don't want to cause unnecessary disruptions to your daily operations and tenants' lives.
Maintenance
Planned maintenance is an excellent way of preventing costly and time-consuming replacements or repairs. We recommend scheduling appointments with us so our team can regularly assess the condition of your roof and locate potential problem areas. Contact us immediately if you notice leaks or other damage, especially after storms and other adverse weather.
Our Roof Asset Management program offers a cost-effective way to maintain your multi-family roof. With proactive cleanings, bi-annual inspections, 24/7 monitoring, priority response, and comprehensive documentation, the program can help mitigate the financial consequences of irreparable damage to your multi-family property. Plus, by having professionals inspect your roof on a bi-annual basis, you can ensure that your product warranties remain in good standing. 
Roofing Protection and Coatings
Adding another level of protection to your roof safeguards it from environmental factors and keeps your tenants safe. We are certified with Tropical Roofing Systems to provide a roof with durability, better insulation, and weather resistance. Elastomeric coatings, spray foam insulation, and roof coatings work on multiple types of roofs to improve energy efficiency by reducing energy loss. The products also reduce the risk of damage from poor weather conditions, including rain and wind.
We can design and customize gutters for your multi-family property. Our products add a desirable appearance to any building and provide the durability and weather resistance you need to protect your roofing system. Our staff can guide you through the many styles and sizes to determine the best option to meet your needs.
Why Choose Texas Select Construction?
Our experienced roofers are Fort Worth locals. We believe in providing our customers with dependable customer service and quality roofing services. Our dedication and professionalism have earned us many certifications and awards.

Commercial Roofing Certifications
Residential Roofing Certifications
We belong to:
We also have an A+ rating from the Better Business Bureau.
Multi-Family Roofing Materials Options
 Texas Select Construction will help you choose the type of roof and materials necessary to provide the benefits you need without exceeding your budget. We offer a range of materials that can complement the look of your building and give the long-lasting protection you seek.
Depending on the type of roof your property has, flat or sloped, different materials are recommended.
On sloped roofs, the most popular choice is asphalt shingles, while on flat roofs, many commercial roofing customers go with one of the following:
A thermoplastic polyolefin (TPO) roof is a popular choice for multiple types of roofing projects. It is a single-ply synthetic material beneficial for flat roofing systems. However, it also works on sloped roofs. If installed and maintained correctly, the material can last up to 30 years.
A modified bitumen roof might meet your needs if your multi-family property has a low-sloped or flat roof. The material has five full layers of protection and mimics the look and feel of asphalt. Modified bitumen is durable for ten to twenty years with proper upkeep. 
A built-up roof (BUR) contains multiple layers of gravel and tar. The multi-layered effect provides the durability your multi-family property needs to withstand the elements. They have a lifespan of fifteen to thirty years.
A PVC roof is similar to TPO. However, it's not identical. This type of material works best on a slightly sloped or flat roof. Proper installation can protect your multi-family building for as long as 25 years. 
EPDM is a synthetic rubber made of propylene and ethylene. It's most beneficial for sloped roofs. However, it can also provide solid protection on flat roofs. EPDM offers exceptional durability for 20 to 30 years with adequate maintenance. 
Our company is certified with Tropical Roofing Systems to install the roof coatings you need to protect your multi-family roof, including spray foam roofing products. These coating products safeguard multiple types of roofs, such as metal and flat roofs. They offer weather resistance to extend the life of roofing systems and lower the risk of damage from rain, wind, and other environmental conditions.
More property owners want to do their part to protect the planet. You can reduce your carbon footprint and lower your energy bills by installing solar panels. The photovoltaic cells in solar panels use energy from the sun instead of the energy grid to power a home. It can reduce your energy bills by up to 50% or higher, depending on the number of panels you install. You might also qualify for a state tax exemption and federal tax credit.
Multi-Family Roofing Process
An inspection is necessary to meet building code requirements. You must also get an inspection before selling your multi-family property. Our roofing professionals try to make the process seamless with minimal disruptions to your operations and residents' lives.
Whether you need an installation, repair, or replacement, the steps will include:
Free consultation

– We begin with a free consultation to assess your roof and recommend options suited to your business needs and budget.

Project

– We install, repair, or replace your roof using only high-quality materials. We try to minimize the impact of the job on your business and shorten the timeline by utilizing state-of-the-art equipment.

Clean up

– Our team will clean up the mess they make at the end of each day. You don't have to worry about your tenants tripping over materials or prospective tenants seeing a messy property.
We also provide roof inspections. Inspections are necessary to meet building code requirements and sell a property. They identify potential issues to prevent major expenses. A thorough roof inspection involves multiple steps, such as:
Check the surface of the roof for holes, cracks, and other damage

Locate and address any leaks to avoid further damage

Inspect drains for damage or clogs

Assess the flashing for cracks or gaps that can cause water leaks

Check the gutters to remove debris, repair damage, and identify sources of water backup
Contact Us For All Your Multi-Family Roofing Needs
At Texas Select Construction, we offer personalized services to meet the unique needs of each customer that hires us. We will advise you of the roofing solutions that fit your deadline and budget. With years of experience and knowledge in the roofing business, our team will work efficiently and offer the guidance necessary for a straightforward process.
Call us at 817-770-0744 today for a quick consultation to discuss your multi-family roofing project with our highly trained roofing professionals. We can bring your vision to life with a roof that enhances the look of your property and provides long-lasting protection.
Frequently Asked Questions About Multi-Family Roofing
At Texas Select Construction, we answer the most frequently asked questions to give you an idea of what to expect with your next multi-family roofing project.
How do I know it's time to replace my roof?
Owning a multi-family property means you are responsible for others' safety. A total replacement might be a better option than a repair if:
Your roof is reaching the end of its lifespan

You're spending significant money on repairs each year

You notice deteriorating materials such as curved shingles or cracked tiles

Most of the roof or large portions have severe damage
Can a leaking roof affect more than one unit?
Yes. You must inspect the entire roof if any water leaks into one unit. The damage can travel along framing and cause problems in areas nowhere near the source of the leak.
How much will a roof replacement cost?
It depends. The size of the roof, the type of material you choose, and other factors will determine the cost of your multi-family project. Texas Select Construction can provide a free estimate to prepare you for the expense.
SCHEDULE YOUR FREE ROOF INSPECTION TODAY!
Hire A Team of Roofing Experts
You Can Trust