Fort Worth's Trusted Storm Damage Repair Company
Proud to Offer a Lifetime Material Warranty & 7-Year Workmanship Warranty
24/7 Emergency Roofing Services
Affordable Financing Options 
Free Inspection Within 24 Hours
Trusted Roof Storm Damage Repair Contractors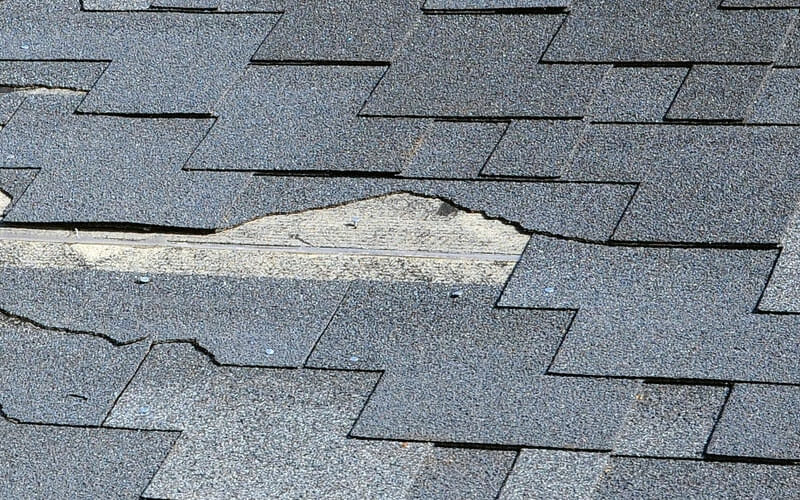 Your roof is your home's or business's first line of defense against inclement weather, and you need it to hold up in a storm. If a storm has damaged your roof, you need immediate roof repair to prevent structural issues, moisture damage, and internal problems with your home.
Roofing company Texas Select Construction offers professional storm damage roof repair services in Fort Worth. We can take care of any storm damage, and we provide a supportive service to help you file a successful insurance claim.
Your home may experience several types of storm damage, and each one can affect the condition of your roof in a different way. In some cases, your roof only has cosmetic damage, which comes with the risk of other problems over time. In other cases, your roof may no longer function properly, and you will need a complete restoration.
Hail Damage
During a hail storm, hailstones typically knock the granules loose that protect your shingles against UV rays and other elements. If you don't add a new layer of granules as soon as possible, exposure to the elements can reduce your roof's lifespan.
A hailstorm can also cause cracks in your roof or damage your flashing, causing moisture to seep through to the decking. Over time, you will encounter issues with moisture damage, mold growth, and high humidity levels.
Our Storm Damage Services
Texas Select Construction offers a wide range of storm damage services to restore your roof's appearance and functionality. Along with exceptional quality, we offer upfront pricing, a free consultation, and a thorough inspection to determine your roof's condition.
Storm Damage Repair
Our storm damage repair offers you the ideal solution if your roof is in fair condition but has defects such as loose flashing, missing shingles, or isolated water damage. Our professional team of contractors will come to your property, assess the issue, and provide you with a free quote before we complete the repair.
Storm Damage Restoration
In the case of extensive deterioration or storm damage, your roof may no longer function well as a structural component. In these cases, we recommend a complete storm damage restoration.
This service is often necessary after a hurricane, high winds, or severe hail storms. As part of our storm damage restoration, we will install new tiles or shingles, flashing, gutters, and tornado straps.
Insurance Claim Assistance
After a storm causes damage to your roof, you have to go through the tedious process of dealing with your insurance provider and filing a claim. Texas Select Construction has an in-depth understanding of the relevant insurance processes, and we will assist you with this process to speed it up and make life easier for you.
If a storm damages your roof, you need immediate professional repair services to limit further destruction to your home. Even seemingly small issues can, over time, have a significant impact on your roof's condition.
Contact Texas Select Construction in Fort Worth today. We will provide you with upfront pricing and prompt repair service.
SCHEDULE YOUR FREE ROOF INSPECTION TODAY!
Hire A Team of Roofing Experts
You Can Trust