Fort Worth's Trusted Commercial Roofing Company
Proud to Offer a Lifetime Material Warranty & 7-Year Workmanship Warranty
24/7 Emergency Roofing Services
Affordable Financing Options 
Free Inspection Within 24 Hours
Expert Commercial Roofing Company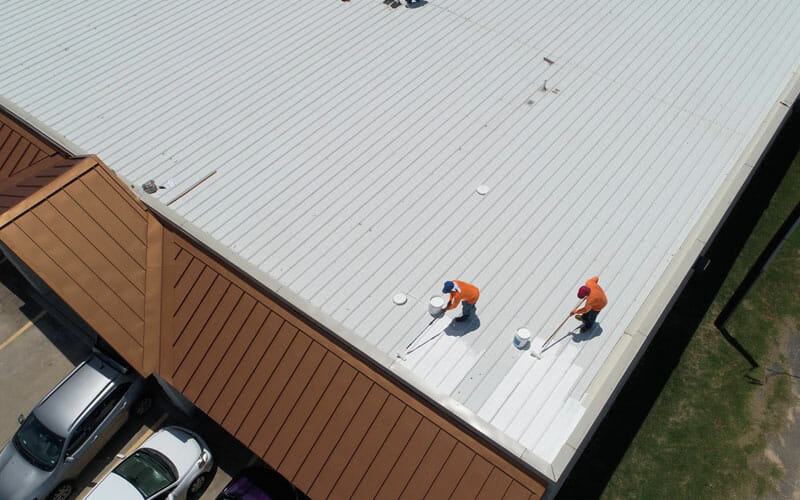 Texas Select Construction is Fort Worth's preferred commercial roofing company. Our team will install your roof correctly, make sure that it can withstand the environment, and protect your property for decades.
Proper commercial roofing is vital to keeping the valuable contents of your warehouses safe and secure. Since all companies and roofing needs are different, you should give us a call at (817) 770-0744 to receive personalized recommendations.
​
Commercial Roofing Services We Offer
Roofing company Texas Select Construction offers plenty of commercial roofing in Fort Worth options. From full installations to maintenance and repair, we have you covered.
Initial Commercial Roof Installations
There is no shortage of considerations to take into account when it is time to install a new commercial roof at your business, which is why the experts at Texas Select Construction work with you from beginning to end. We make certain that you are delighted with both the work and our employees. We believe in complete transparency and offer competitive pricing.
Honesty and simplicity are vital to us.
Additional Protection
If you want another level of protection, consider getting a roof coating. This thin layer shields your roof from the elements. Although roof coatings are not permanent, they are an effective and simple patch to protect your roof until you can afford more extensive fixes or a new roof. Call Texas Select Construction at 817-770-0744 for more details.
Full Repair Options
At Texas Select Construction, we never try to upsell you on useless products. We will always promote the best option, even if it costs us money, which is why businesses prefer us for commercial roofing in Fort Worth. Sometimes you do not need a brand new roof. If the damage to your building is not too extensive, we can effectively repair roofs and make them as good as new. Our team can assess your roof's health and determine if you are a suitable candidate for repair.
Replacing Your Commercial Roof
Should you need to get your commercial roof replaced, Texas Select Construction has you covered. Generally speaking, correctly installed roofs will last between 10 and 40 years, depending on the material and design. Our team can visit your business and give you several options for replacing your roof.
The materials come with their advantages and downsides, and we will patiently review them with you to find the roof that is best for your building and budget. After this, our expert staff will install the roof with minimal disruption.
Commercial Roof Maintenance
An excellent way to reduce the number of times you will have to repair or replace your commercial roof is to keep it maintained. At Texas Select Construction, we can schedule regular appointments to check on your roof's health and quickly care for any causes for concern.
Additionally, you can help ensure your roof's health by keeping the surface clean of debris, especially after storms. Do not work on your roof by yourself, as this is a task best left to the experts.
If you notice any leaks or loose pieces of roofing, call in the experts right away. There might be a more significant problem going on. In almost every case, if you catch a roofing problem early, you will save money later on.
We created our Roof Asset Management (RAM) Program to help our commercial clients make roof maintenance an affordable and regular part of your business.
Commercial roofs are not all the same, and you can choose from a handful of roof types. The experts at Texas Select Construction can explain each option in detail to see if it is a good fit for your building.
Flat Roofs
Flat roofs are the most popular option for commercial businesses, and there are several reasons why. Compared to other options, they are relatively inexpensive to install. Flat roofs are also easier to take care of because it is very simple for personnel to walk around on the surface.
It also takes very little effort to install solar panels on flat roofs, and since many companies embrace alternative energies, having a flat roof is preferable for panel installation.
On the other hand, flat roofs do not drain as well, and stagnant water can cause severe deterioration on the roof. If you are diligent about checking your roof, water should not be a problem.
Sloped Roofs
Although you see sloped roofs more on houses than commercial properties, plenty of businesses are adopting this style of roof. Whether they are slight or high pitched, sloped roofs are growing in popularity.
Sloped roofs solve the drainage problem created by flat roofs. Water runs right off the roofs and will not stagnate on the top. On the other hand, sloped roofs require more materials and are often more costly. It is much harder to install satellite dishes, skylights, or solar panels on sloped roofs.
At Texas Select Construction, we can assess your building and help determine if a sloped roof will be best.
Commercial Roofing Materials
In addition to the style of roof that you choose, you also need to pick what material you will want to use. At Texas Select Construction, we can help you select the most effective option without breaking the bank.
We have highlighted some of the common materials below.
TPO Roofs
TPO stands for Thermoplastic Polyolefin, and is it an exceptionally popular roofing material. This synthetic material is single-ply and is especially suitable for use on flat roofs. That said, Texas Select Construction can install it on sloped roofs as well.
Modified Bitumen Roofs
If your company's roof is either flat or low-sloped, Modified Bitumen roofing might be precisely what you need. These roofs are composed of five full layers of roofing that closely mimic asphalt and offers excellent protection.
Commercial Metal Roofs
For years, commercial metal roofs have been the most popular option for commercial roofing in Fort Worth. They are relatively simple to install, durable, and easy to repair.
BUR Roofs
BUR, or built-up roof membranes, are comprised of layers of tar and gravel. They are popular on both commercial and residential properties and have been around for at least a century. The multi-layered effect of these roofs makes them very durable.
PVC Roofs
PVC, short for Polyvinyl Chloride, is similar to TPO roofing but not identical to it. PVC works best on flat or slightly sloped roofs and offers unparalleled protection against the elements. One of the biggest perks of PVC roofs is their lasting power. Properly installed PVC roofs can protect buildings for up to 25 years.
EPDM Roofs
Comprised of synthetic rubber, EPDM is made out of ethylene and propylene and is best used for sloped roofs, although you can also use it on flat roofs. It is exceptionally durable, and carrying out repairs on EPDM is a breeze.
As the preferred provider of commercial roofing in Fort Worth, Texas Select Construction has plenty of experience installing all of these different types of roofs. Contact us today at (817) 770-0744 for a personalized quote.
How long should I expect my commercial roof to last?
The lifespan of your commercial roof will vary depending on what materials you use and whether the roof is flat or sloped. How long your roof lasts also depends largely on where you live. If the weather is exceptionally snowy or rainy, the wear and tear to your roof will be more significant. If properly installed, a commercial roof might last up to 45 years. 
How well you maintain your roof will also factor into how long it will last. Make sure that someone inspects your roof regularly. Make time to clear away standing water and debris. Both of these actions will positively contribute to your roof's lifespan.
How much will I realistically spend on my commercial roof?
The cost will certainly vary depending on what kind of material you use and how large your roof will be. At Texas Select Construction, we pride ourselves on giving you fair inspections. We can also give you several different options to choose from and review the pros and cons of each.
I want a flat roof. What kind of roofing should I use?
Flat roofs respond well to PVC, which is both durable and easy to install. These roofs also have tremendous staying power, and you can expect to enjoy yours for at least 30 years, as long as you keep it free of water and debris.
There are plenty of other flat roof options that you can use too, so it is important to schedule a consultation to see which material is best.
For the best commercial roofing in Fort Worth, turn to the experts: Texas Select Construction. We have helped hundreds of companies just like yours find the roof of their dreams. With our experience, we are certain that we can help you enhance your business's appearance and security!
At Texas Select Construction, we pride ourselves on personalized solutions that fit your budget and business needs. We offer transparent pricing, expert consultation, and years of experience that will make the entire experience as smooth as possible.
Give us a call at 817-770-0744 today for a free consultation.
Texas Select Construction is the premier provider of commercial roofing in Fort Worth, including for multi-family properties. We also offer (pre-sale) commercial roof inspections.
Read more: What to Expect During a Commercial Roof Inspection
SCHEDULE YOUR FREE ROOF INSPECTION TODAY!
Hire A Team of Roofing Experts
You Can Trust