Fort Worth's Trusted Residential Roofing Company
Proud to Offer a Lifetime Material Warranty & 7-Year Workmanship Warranty
24/7 Emergency Roofing Services
Affordable Financing Options 
Free Inspection Within 24 Hours
Our Local Residential Roofing Services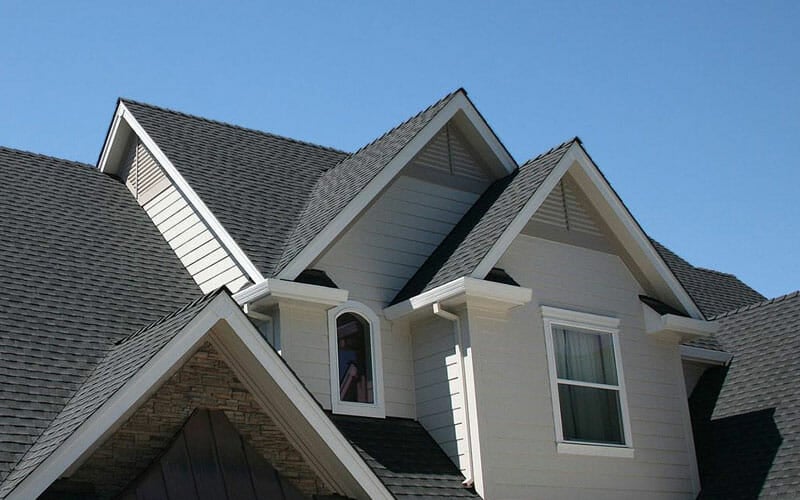 Most people don't give their roofs much thought. Texas Select Construction is here to change that. We believe residential roofing in Fort Worth is one of the most significant investments you can make in your home.
A proper residential roof protects from all sorts of weather. It can improve your home's energy efficiency and curb appeal. According to Remodeling Magazine, a new roof can even boost your home value by $12,000.
When you want residential roofing services that enhance your house, contact Texas Select Construction roofing in Fort Worth. Our industry experts understand what it takes to make your roofing dreams a reality, whether you need a minor repair or complete replacement. Contact us today to get started with a comprehensive roof inspection or consultation.
Types of Residential Roofs
Asphalt Shingle Roofs
Asphalt shingle roofs are ideal if you want a budget-friendly material that fits within any house's visual aesthetic. Asphalt shingles, which include three-tab and architectural varieties, weigh less than other shingles, making them easy to transport and install. While their life expectancy peaks at 30 years, repairs and replacements are straightforward and affordable.
Metal Roofs
Metal roofing has earned the moniker as the "Cadillac of Roofing" for its top-tier performance and desirability. The highly durable and low-maintenance material comes with natural fire and water resistance to keep your home safe year-round. Metal roofing may cost more than some of its counterparts, but the initial investment is more than worthwhile for you and the environment.
Flat Roofs
Flat roofs don't have the cachet as other residential roofing options, partially because the non-existent slope makes it prone to replacement. That doesn't mean you should dismiss flat roofs. The roofing system provides energy efficiency and requires minimal construction. The level surface also makes it an ideal place to expand your living area, whether you want a garden, roof deck, or lounge.
Wood and Cedar Roofs
The aesthetic judgment of roofing material is subjective, though it's hard to deny the natural beauty of wood and cedar shingles. Each square of shingles offers superior insulation over conventional materials and effective insulation. While wooden shingles are flammable, they have a longer lifespan than three-tab and architectural asphalt varieties.
Clay and Concrete Tile Roofs
Clay and concrete tiles deliver comprehensive weather-resistance to keep your home safe all year round. The tiles can withstand winds up to 125 mph, making them ideal for hurricane and tornado-prone regions. If your house has the additional support to bear the weight, clay and concrete deserve consideration for your roof installation or replacement.
Slate Roofs
If you want a roofing material that will last for decades, if not a century, slate roofing should be on your shortlist. The rock-based shingles offer resistance to fire, water, mold, and fungi, even in moist climates. Slate shingles are significantly heavier than other options, but the durability and beauty make the investment the gold standard in roofing.
Residential Roofing Services We Offer
Roof Replacement
The last thing you want is for roof damage to disrupt your home life. At Texas Select Construction, we replace hundreds of thousands of square feet of roofing in Fort Worth every year. Our blend of industry knowledge and hands-on experience allows us to deliver the roof replacement you need on time and within your budget.
Every roof has a predetermined life expectancy. When your roof's condition goes beyond simple repairs, our residential roofing experts can replace it with a stronger, more modern one. The investment ensures your home doesn't falter when protecting your, your family, and your possessions.
Roof Installation
Your home is your first line of defense from the elements. It keeps rain, sunshine, leaves, snow, and debris outside year after year. Investing in a durable material, such as metal or terra, can keep your house safe for decades.
Most roofs last an average of 25 years, but water damage or leaks can upset the protection in 25 seconds. At Texas Select Construction, we deliver high-quality installation, consummate professionalism, and competitive rates to keep your roof problem-free for as long as possible.
Roof Repair
Years of residential roofing experience are at your service when you contact Texas Select Construction. Our professional roofers provide permanent repairs and alterations to restore your roof to a like-new condition. We even offer emergency service in case of unexpected damage on the weekends or holidays.
Our industry expertise has provided us the technical mastery and insights to solve any roofing problem you may have. We can stop water leaks, replace damaged shingles, and retrofit metal panels, regardless of the project's size or complexity. At Texas Select Construction, our veteran crews make sure to complete the repairs the first time.
Close
When should I replace my roof?
Every roof has a set life expectancy. You should consider roof replacement the closer your roofing system is to the end of its serviceable life. For instance, standard asphalt shingles last 12 to 20 years, while metal roofs remain usable for 40 to 80 years.
You should also think about roof replacement if you notice significant damage, including water leaks, cracks, blistering, missing shingles, and bald spots. These visible problems undercut the strength and integrity of your roof.
Can you replace one section of a roof?
You can replace a portion of your roof if the damage exists in a specific area. If you are looking to replace over half of your current roof, you should opt for a replacement. The complete overhaul provides superior value and benefits for your home and wallet.
How long does a roof last?
The longevity of your roof depends on the material. Metal provides greater weather-resistance and durability than asphalt, affording it a much longer lifespan. Here are some of the most popular roofing materials and their average life expectancies:
TPO: 7 to 20 years
Asphalt shingles: 12 to 20 years
Wood shingles: 20 to 30 years
Architectural shingles: 25 to 40 years
Metal roofs: 40 to 80 years
Clay tiles: 60 to 150 years
Copper shingles: 70 to 200 years
Residential Warranties We Proudly Offer
SCHEDULE YOUR FREE ROOF INSPECTION TODAY!
Hire A Team of Roofing Experts
You Can Trust