Commercial Gutters Company serving Fort Worth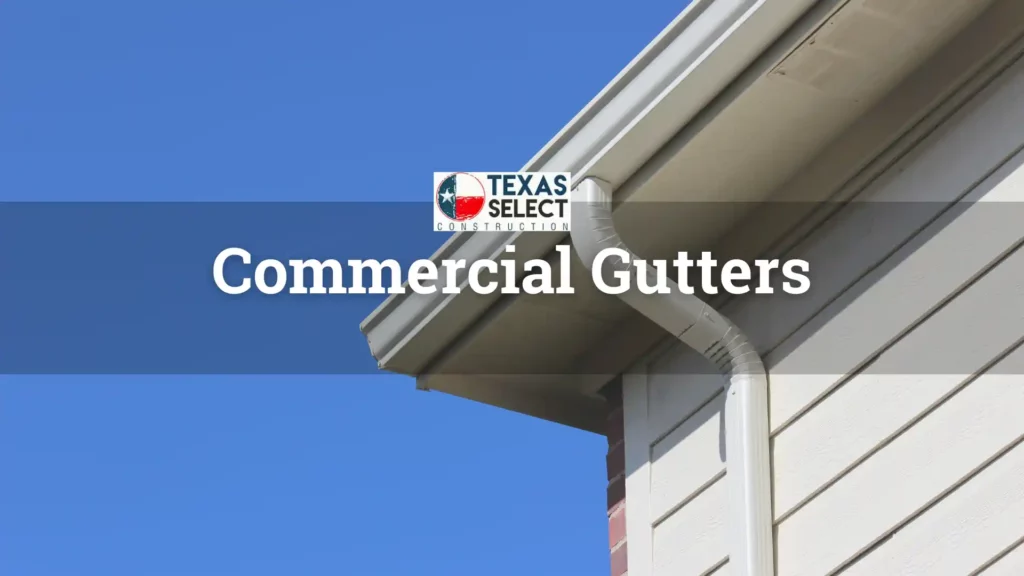 Are you considering gutter repair or installation for your Fort Worth, TX, commercial building? One of the most critical parts of protecting your building is ensuring it has proper drainage and that any water flowing off your roof goes where it's supposed to go rather than becoming trapped inside and causing damage. Gutters are essential to nearly any commercial building, as they help protect the structure from water damage caused by rain, snow, and other elements. At Texas Select Construction, we offer commercial gutter repair and installation services in Fort Worth. We also design and create custom gutter systems for commercial buildings.
Contact us today at (817) 770-0744 and learn more about our commercial gutter services.
What Are Commercial Gutters?
Commercial gutters are channels and pipes that collect and direct rainwater away from a commercial building's exterior walls and roof. Commercial gutters are made of aluminum, copper, vinyl, or steel and protect your building's foundation, roofing, and other structures from water damage. While they look similar to residential gutters, commercial gutters are usually larger and made from more robust materials. In addition, commercial gutters handle heavier amounts of rainwater than residential gutters, making them an ideal choice for businesses.
The Benefits of Commercial Gutters
Commercial gutters are an essential part of any business's roofing system. Gutters help divert rainwater away from the building and reduce the risk of damage to your roof, siding, and foundation. Not only do they protect the structure of the building, but they also help prevent costly repairs and maintenance. Benefits of having commercial gutters installed include:
Preventing Erosion: By diverting water from the building, gutters help prevent erosion around the foundation, walkways, and landscaping.
Protecting Siding: Gutters help reduce the moisture buildup on the sides of your building, protecting it from water damage, mold, and mildew.
Preventing Flooding: If you're in an area with heavy rains or flooding, gutters can prevent water from entering your building and causing extensive damage.
Having commercial gutters installed is a wise investment for any business. Not only do they protect the structure of your building, but they also help you save money on costly repairs and maintenance in the long run.
The Different Types of Commercial Gutters
Commercial gutters come in various shapes, sizes, and materials, suiting the needs of any business. Types of commercial gutters offered by Texas Select Construction include:
Seamless: Seamless gutters are made of one continuous piece of metal or other material with no leak-prone seams or joints. Seamless gutters are a great option for businesses that want a low-maintenance gutter system that won't need frequent repairs.
Copper: Copper gutters are aesthetically pleasing, durable, and corrosion-resistant. They also require minimal maintenance and last for decades. Copper is a more expensive option than other commercial gutters, but the long-term benefits make it well worth the investment. – not for commercial use
Half-Round: Half-round gutters are often used in historical buildings or for businesses looking for a classic aesthetic. They are usually made of aluminum or galvanized steel and come in various colors. —Not for commercial use
K-Style: K-style gutters are popular for commercial buildings due to their durability and low maintenance needs. They have a flat bottom and sides curving inward, giving them a unique, functional, and aesthetically pleasing shape.
Gutter Guards: Gutter guards effectively protect your commercial gutters from debris buildup. These guards keep leaves and other debris out of your gutters, making them easier to clean and reducing the chance of water damage caused by clogged gutters.
Choosing the Right Type of Commercial Gutter for Your Business
When selecting a gutter for your business, choosing one that meets your business's needs is essential. Each gutter type has distinct qualities. Talk with one of our team of experts about which kind of gutter system would work best for your commercial property.
Always let a professional contractor install commercial gutters. It's a dangerous job. Professionals should handle the work to guarantee it's done correctly, efficiently, and in compliance with local building codes. Also, before starting any installation, check your roof warranty to ensure that attaching something won't void it.
The contractor will measure the roof length to determine the needed material. Then they will mark the roof and rafters where the gutter brackets go. They can add extra supports to make the gutters more stable if necessary. Once the brackets are in place, the contractor can install the gutters. They may use a gutter sealant or caulk for added protection against leaks. Finally, they will add downspouts and complete the installation.
Commercial Gutter Repairs and Maintenance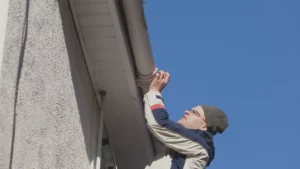 ​A good gutter system protects your commercial building from water damage. While gutters are durable, they eventually need replacement. Regular maintenance and repairs help increase your gutter system's lifespan and ensure it functions properly.
Aluminum gutter systems are one of the most common commercial gutters, typically lasting around 20 years. Copper gutters last the longest, about 50 years, with proper care. You should schedule regular maintenance to ensure your gutters remain in good condition and last as long as possible.
Upkeep also includes ensuring your gutters are free of debris and any obstructions, such as branches or leaves. In addition, check for signs of damage and rusting, as these indicate it's time to repair or replace your gutters. Finally, make certain the downspouts drain properly and away from your building. When you take these steps, your gutters can stay in top shape and last as long as possible.
When an inspection of your commercial gutters reveals damage that needs repair, call a professional to take care of the issue. Handling it yourself can be dangerous, and a skilled professional who handles gutter repair every day knows how to perform the repair so that it is long-lasting, prevents further damage, and looks aesthetically pleasing.
Commercial Gutters in Fort Worth
If you need high-quality commercial gutters in Fort Worth, contact Texas Select Construction. We are a full-service roofing contractor, and we even design and manufacture custom commercial gutters.
Our team of experienced gutter repair and installation professionals has years of experience in the roofing industry and can recommend the best type of gutter for your specific needs. With our superior craftsmanship and quality materials, your commercial gutters will last for years to come.
Contact us today at (817) 770-0744 and learn more about our commercial gutter services in Fort Worth.
Related Posts:
SCHEDULE YOUR FREE ROOF INSPECTION TODAY!
Hire A Team of Roofing Experts
You Can Trust