Slate Roofing Systems in Fort Worth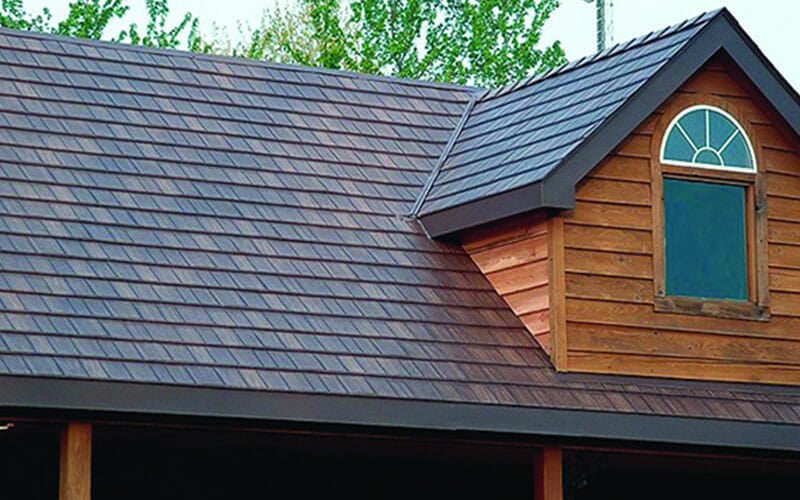 Of all the available natural roofing options, slate offers a popular, durable solution for your home. Slate is a homogeneous metamorphic rock with ample aesthetic appeal and a wide range of properties that make it the ideal roofing material.
Texas Select Construction offers professional slate roofing installation, repair, and maintenance in Fort Worth. With our services, you can get optimal value from your slate roof and even increase your home's resale value. Read more below about slate roofs and how they can improve your home.
Advantages of Slate Roofing
As a derivative of shale-type sedimentary rock, slate makes an ideal material for residential roofing applications. Slate offers several advantages over cheap roofing options and can present a more cost-effective option in the long run, especially with proper maintenance.
Curb Appeal
Slate has a natural texture and appearance. Its dark color can give your home a unique aesthetic appeal that will make it stand out in the neighborhood and its environment. Slate is also more exclusive than conventional roofing materials such as tiles or asphalt shingles, creating a refined, stately look.
This roofing type matches well with any design style and roof structure. Because of slate's unique curb appeal, it has become the roofing material of choice in many professional commercial settings.
Long Lifespan
Slate doesn't disintegrate over time, and it is not susceptible to rot or damage from insects. Because slate is a natural rock, it can withstand sunlight, rain, high winds, and hail without fading or eroding. This highly durable roofing material can have a functional lifespan of up to 150 years, making it an excellent option for family homes and estates.
Environmentally Friendly
Slate's natural components mean that the extraction and working processes of these tiles require almost no fossil fuels. This roofing type also contains no chemicals, and you can easily reuse or recycle it when your roof reaches the end of its functional lifespan.
Low Maintenance Requirement
Maintaining your slate roof is quick, easy, and affordable. Texas Select Construction offers professional slate maintenance services, and we recommend you schedule a maintenance visit at least once every two to four years.
Our slate maintenance services include a thorough inspection to look for structural issues, missing shingles, and other defects. After this inspection, we will power wash your roof to remove debris, caked-on soil, and vegetation. Then, we will inspect and repair your roof flashing and gutter system to ensure that rainwater falling on your roof can flow away freely without causing damage.
Fire Resistant
Slate's fire-resistant properties mean you will not have any difficulty with local building codes or safety regulations. You also don't have to apply a fire retardant, which saves money and lowers your insurance costs. A fire-resistant roof also gives you the added peace of mind that comes with knowing your property has the right protection.
Drawbacks of Slate Roofing
Like all roofing types, slate comes with some drawbacks. If you work with a professional, such as Texas Select Construction, we can work around these issues and maximize the benefit you gain from your slate roof.
Weight
At a weight of more than 1,000 pounds per square, slate is among the heaviest roofing materials. Before installing your roof, Texas Select Construction will conduct a thorough inspection to ensure that your property's structure can withstand the load.
High Installation Standards
Because of slate shingles' weight and texture, installing a slate roof requires extensive experience, skills, and the right equipment.
If you treat a slate roof installation as a DIY project, your roof will not provide your structure with optimal protection, and you can expect recurring roofing defects. Instead, contact Texas Select Construction to ensure that you meet the high installation standards of professional slate roof installation.
Fragility
Slate cannot withstand heavy weights and impact from airborne objects. If you walk on a slate roof, you risk breaking your shingles. You should also ensure that there are no tree branches nearby that can break in high winds and fall on your roof.
How Much Does Slate Roofing Cost in Fort Worth?
In Fort Worth, the costs of slate roofing range from $2,000 to $4,000 per square, which is significantly more expensive than most other roofing materials. However, slate roofing can last up to five times longer than the most durable roofing options, making it worth considering for your home.
If you need a professional slate roofing installation, repair, or maintenance service in Fort Worth, contact Texas Select Construction. Tell us about your roofing project, and we'll schedule a free consultation and give you a no-obligation quote.
SCHEDULE YOUR FREE ROOF INSPECTION TODAY!
Hire A Team of Roofing Experts
You Can Trust