Commercial Roof Maintenance
Commercial Roof Maintenance Services in Fort Worth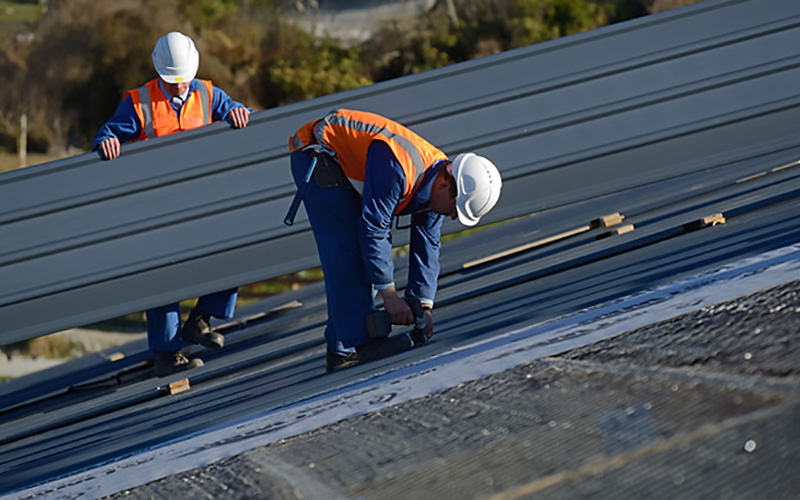 Proactively maintaining your commercial roof to prevent costly and time-consuming repairs is crucial. As a business owner, you want to avoid anything that can slow down or halt daily operations. Contact Texas Select Construction to learn about our Roof Asset Management (RAM) Program.
 As a member of our program, you receive a range of services to keep your roof in excellent condition and ensure your product warranties remain valid. Our team has years of experience in disaster recovery planning, damage restoration services, and insurance claim navigation. Call us at 817-770-0744 for more information.
Protect Your Roof with Our Roof Asset Management (RAM) Program
At Texas Select Construction, we offer members of our Roof Asset Management (RAM) Program access to multiple services, including:
24/7 monitoring and priority response

 

Documentation to help mitigate the financial consequences of disasters to the property

Semi-annual inspections

Product Warranty Compliance

Proactive cleanings
The cost for low-slope members starts at $1,200. The product manufacturer requires inspections of multiple items to maintain your warranty status, such as:
Drains

Pitch pans

Semi-annual visual inspections of the entire roof

Term bars/sealants
The cost of the program includes maintenance and touchups. 
Billing for further repairs gets preferred pricing through Texas Select's RAM Program. Your Texas Select Construction contractor will submit a formal proposal for approval to repair major issues found during the inspection. 
If you own a commercial property with a multi-family or steep slope roof, membership costs will start at $1,000.
Manufacturers require inspections of these items to maintain warranty status:
Sealant failure

Penetrations

Semi-annual visual inspections of the entire roof

Ice damming damage

Missing tabs/ridge caps

Nail pops

Flashings

Debris build-up
Inspections include the minor repair of debris build-up, nail pops, and sealant failure. More significant repairs require documentation and proposal submissions for approval.
Restore Your Roof After a Storm
At Texas Select Construction, we provide storm damage services to restore the functionality and appearance of your commercial roof. We will inspect your roof to determine the type of service you need and create a plan to work within your budget and timeline.
A replacement or full repair isn't necessary if your roof is in fair condition and has isolated water damage, loose flashing, or missing shingles. Our team of experienced contractors can assess the problems you notice after a storm and advise you of the available options to fix them.
Storm Damage Restoration
A complete storm damage restoration is ideal if your roof isn't fully functional after a severe storm or extensive deterioration. The damage might compromise the structure's integrity, requiring the installation of new flashing, tiles, gutters, and shingles. Our restoration service is often necessary if damage occurs from high winds, severe hail storms, or hurricanes.
Dealing with the insurance company after a storm damages your commercial roof can be time-consuming and complex. As a business owner, you can't direct your attention away from daily operations. It can cost you money and ruin your relationship with your customers.
Texas Select Construction can assist you with each step of the claims process. We will guide you on filing your claim and communicating with the insurance adjuster. Although we don't generally interfere with the adjuster's job, our team can step in if we notice a mistake with their assessment.
Benefits of Regular Commercial Roof Maintenance
You must maintain your roofing system to keep your building, contents, and people safe. When you hire Texas Select Construction, we can detect issues before they require a total roof replacement or expensive repairs.
Some of the benefits you get from maintaining your commercial roof include:
Identify underlying problems

– Business owners have many responsibilities. Keeping an eye on the roof often gets forgotten while managing employees, talking to customers, and creating marketing materials. Ignoring or failing to search for underlying issues can lead to more severe damage later. For example, leaking can occur if you don't replace missing shingles. An experienced and skilled roofing contractor can detect problems with a routine inspection.

Increase the lifespan of the roof

– Routine maintenance is a more cost-effective option for installing a brand-new roof or requiring multiple repairs. Commercial roofs can last up to 30 years with proper upkeep. Without adequate maintenance, the lifespan of your roof will decrease significantly.

Avoid emergency repairs

– You might prevent emergency repairs that interfere with your business by maintaining your roof. As a business owner, nothing is more disruptive than discovering a problem requiring you to shut down operations. You can continue running your business smoothly by regularly inspecting and maintaining your roof.

Long-term savings

– A complete replacement or significant repair costs more than routine maintenance. The longer it takes to address a problem with your roof, the more money it will cost your business. You shouldn't wait until a damaged tile or small leak becomes a massive issue you can no longer ignore. You can save money in the long run and increase your roof's life with proper maintenance.

Temperature control

– A roof doesn't only protect the inside of your building. It also helps regulate temperature. Routine maintenance can determine the effectiveness of the insulation. It might be time to replace it to keep people comfortable during the cold winter months. You can improve energy efficiency and lower your utility bills to save money.

Improve Safety

– Your job as a business owner is to protect your employees, customers, and other visitors to the property. Roof damage can jeopardize anyone's health or life. Leaking water can lead to mold growth, causing respiratory issues and other medical problems. Structural damage might cause a ceiling to collapse. Preventative maintenance helps you avoid accidents and potential liability for injury or death.

Compliance

– Your commercial roof must meet various safety codes and industry standards. Routine maintenance can determine whether any repairs are necessary to address the damage that can endanger occupants' health or safety. Maintaining your roof also ensures it follows state and local regulations. Warranties guarantee total roof replacements, but only if you meet specific requirements. Inadequate maintenance could void the warranty, meaning it won't cover the cost of a replacement requiring you to pay out of pocket.

Protect your investment

– A new commercial roof is not an expense. It's a significant investment. By protecting the overall integrity of your roof, you increase the value of your property and prevent costly future repairs.
Maintenance Checklist for Your Commercial Roof
With our RAM Program, you will receive semi-annual inspections to check for damage and make necessary repairs to maintain the entire structure. You can also keep your roof in good condition by following a comprehensive checklist:
Conduct a detailed inspection

– Thoroughly assess every part of your roofing system, including the flashing, decking, vents, gutters, and pipes. You can spot minor problems, such as holes and cracks, before they become major expenses.

Examine the interior

– Before heading up to the roof, check for signs of damage inside your commercial property. Look for peeling paint, leaking water, mold growth, and other problems indicating roof damage.

Take note of deterioration

– Age and natural wear and tear deteriorate the roof and materials. Sometimes it's a normal part of a roof's lifespan. However, deterioration can signify damage you must address promptly. If you notice deteriorating shingles or other areas of the roofing system, keep it in mind while discussing the problems you discovered with your roofing company.

Remove debris

– After strong winds and severe storms, debris can build up on your roof. You must remove leaves, branches, and other debris to prevent the extra weight from compromising the structural integrity and leading to a collapse.

Inspect for water

– Ponding water is a severe problem. Water might leak into your commercial space, leading to flooding or causing the entire roof to collapse. If you notice stains or discoloration on the ceiling, it might be time to check the roof for water damage.

Look for tears or cracks

– Tears or cracks in the roofing system can lead to structural damage if left unrepaired. Locating these problems can prevent further damage.

Check the gutters

– Your gutters play a significant role in directing water away from the roof's surface. If they get clogged, the water can pond on the roof deck. If you notice standing water, check your gutters. You might be able to remove debris and other build-ups to get the water flowing again.

Assess the edges

– Edge materials should remain tightly secured to prevent outside elements from entering the building. You must close any gaps to protect the interior from rain and other weather.
Although this checklist offers a general overview of the inspections you should conduct on your commercial roof, letting a professional from Texas Select Construction do the job is your best option. We have the experience and skill to identify problem areas the untrained eye can't see.
Join Our RAM Program and Let Us Handle Roof Maintenance for Your Commercial Property
Your commercial roof is one of the first things people see when they enter your property. You want it to reflect your business positively. An outdated or run-down roof can deter potential customers and create safety problems. Keeping your roof in good condition means hiring an experienced roofing contractor.
Texas Select Construction offers only high-quality roofing materials to our Fort Worth customers. With our RAM Program, you will receive affordable services to protect your roof and prevent unnecessary expenses. Call us at 817-770-0744 for a free consultation to discuss our commercial roof maintenance services.
SCHEDULE YOUR FREE ROOF INSPECTION TODAY!
Hire A Team of Roofing Experts
You Can Trust