Quality Tile Roofing in Fort Worth, TX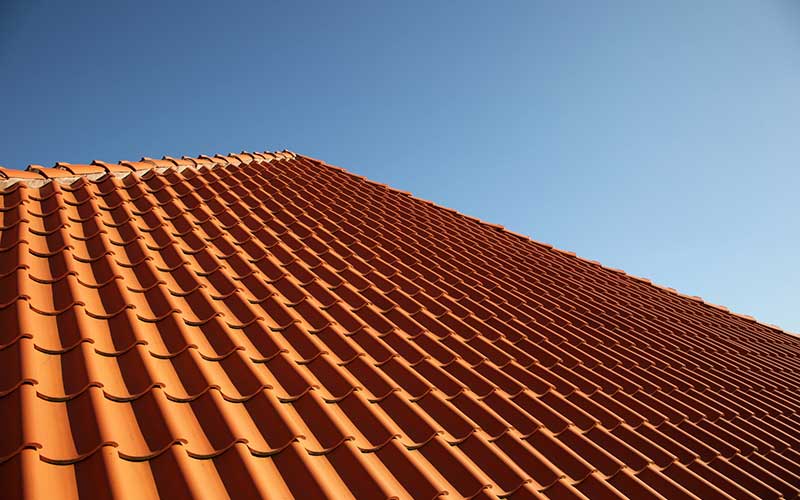 When you want a conventional or tried and tested roofing option, tiles offer that, plus the functionality you need to protect your home. Concrete and clay tiles make a popular material in residential settings, and you'll find out why when you learn about their many benefits. With proper installation, your tile roof can give your property better curb appeal and optimal protection for years.
Roofing company Texas Select Construction offers professional tile roofing installation, repair, and maintenance services in Fort Worth. If you want to replace your roof or build a new home, contact us today for a free, no-obligation quote.
Tile roofing comes in many materials, styles, and colors, giving you an almost endless selection to customize your roof. We offer a comprehensive collection of concrete, clay, and specialty tiles to match any architectural design, color scheme, and personal taste.
Concrete Tile Roofing
Concrete roof tiles come in various shapes and styles, with surface granules to increase their durability. This type of roofing can withstand exposure to harsh elements, and it requires little maintenance. Concrete tiles also block sounds coming from outside, so you can enjoy the privacy of your home.
Clay Tile Roofing
Clay tiles have existed for hundreds of years. Some of the terracotta tiles that the Greeks used as roofing remain intact to this day.
Clay tiles have a unique aesthetic value, and they come in many different shapes, colors, and sizes. These tiles also have superior insulation properties to ensure comfortable indoor temperatures and low energy costs.
Hard impacts and excessive weight can cause clay tiles to break. However, this roofing material can withstand exposure to inclement weather, and it resists rot and decay. 
Specialty Tiles
Texas Select Construction offers a wide range of specialty roof tiles in Fort Worth, including slate tiles, solar tiles, and asphalt shingles. Contact us today so we can help you select the best roof tile for your needs.
Advantages of Tile Roofing
Tiles are the roofing material of choice for most residential property owners because they offer several advantages over other roofing types.
Curb Appeal
With their earthy tones and authentic textures, tiles roofs have plenty of aesthetic appeal. You can match conventional clay or concrete tiles with other building materials such as brick, timber, thatch, and rock.
Tiles also suit any residential design style, including American Colonial, rustic, and neo-eclectic. Because roof tiles are available in many different colors and shapes, you can customize them as you see fit.
Long Lifespan
With proper maintenance and care, a tile roof can have a lifespan of more than 100 years. Clay roofs are the best option if you don't want to replace your roof again for as long as you live in your home. Tile roofs can withstand inclement weather conditions, including the sun's rays, rain, high winds, hail, and fire.
Additionally, tiles are impervious to decay, mold-growth, and insect damage. If vegetation starts growing in soil between tiles, a thorough pressure wash will restore your roof's condition and appearance. Most manufacturers offer a 50-year guarantee on their roofs, but with proper maintenance, you can expect your roof to last much longer.
Environmentally Friendly
Roof tiles consist of natural products and earth minerals instead of chemicals. When the time comes for a roof replacement, your old tile roof will go through a pulverize and recycling process with no chemical runoff, keeping it out of the landfill.
The production process of tile roofing is more energy-efficient than that of other materials like asphalt shingles. Manufacturers also don't use minimal fossil fuels during the production process.
Low Maintenance
Tile roofs require minimal maintenance. At Texas Select Construction, we recommend that you schedule professional roof maintenance at least once every two years.
As part of our maintenance services, we will conduct a thorough roof inspection to look for structural issues, replace missing tiles, and clean your roof, removing debris and vegetation. We will also inspect and clean your gutter system to ensure that rainwater can immediately leave your roof without causing damage.
Are you planning a roof replacement or building project? You need the help of a professional contractor to install your roof correctly. Texas Select Construction is a leading provider of tile roof installations, repairs, and maintenance in Fort Worth.
With a professional installation, you will maximize your roof's lifespan and prevent unnecessary defects. You will also ensure that your roof provides your property with optimal insulation and protection against the elements.
Contact us today to receive a free, no-obligation quote and schedule a professional roofing service for your property.
SCHEDULE YOUR FREE ROOF INSPECTION TODAY!
Hire A Team of Roofing Experts
You Can Trust