Flat Roof Coating in Fort Worth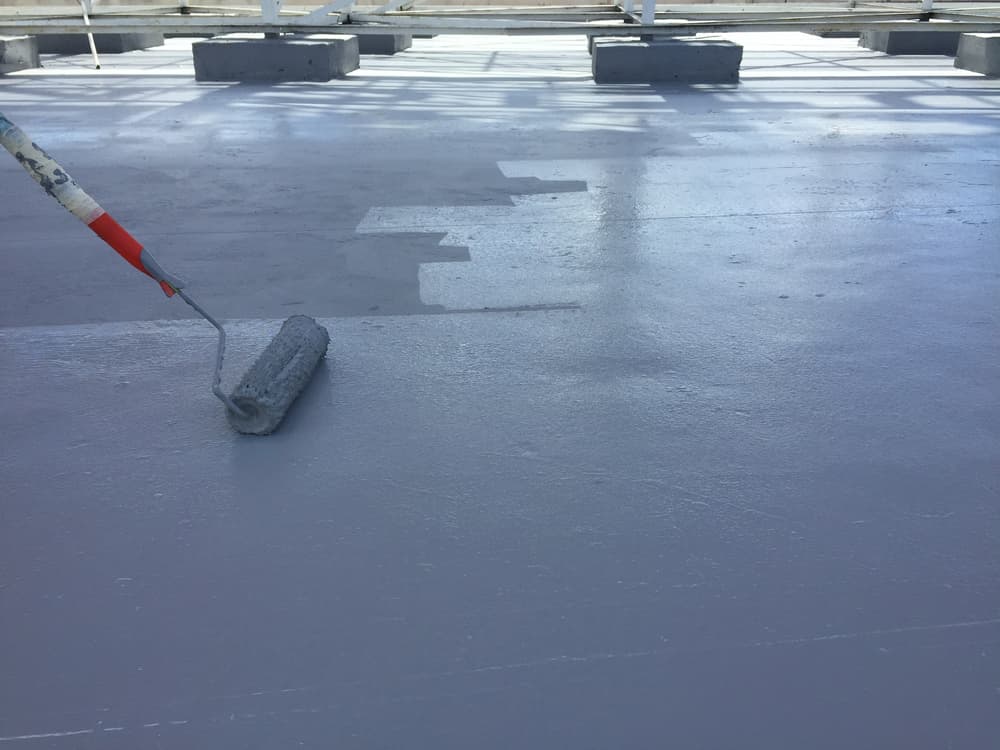 As a business owner, maintaining your property requires protecting your commercial roof. You should consider coating your flat roofing system to prevent rust, lower energy bills, stop leaks, and reduce maintenance costs.
At Texas Select Construction, our team of commercial roofers understands the needs of business owners in Fort Worth. We can install high-quality flat roof coatings to safeguard your commercial building from damage and the outside elements. We are certified with Tropical Roofing Systems to provide top-of-the-line coating products for commercial flat roofing systems.
Call us today at 817-770-0744 for a free consultation to learn more about our flat roof coating options.
Types of Flat Roof Coating Systems for Commercial Properties
The weather presents a unique challenge for business owners. During the summer, temperatures reach the mid to high 90s, while the winter brings frigid temperatures plummeting into the 30s. Although snow isn't as common as in other parts of the country, Fort Worth can experience up to 2.6 inches annually. The wet months also bring significant rain.
A flat roof might require a coating product for durability, weather resistance, and better insulation. Texas Select Construction offers two types of roof coating materials – silicone and acrylic, although we prefer silicone.
Silicone Roof Coating
The primary use for silicone coatings was in spray foam roofing applications. However, they evolved into a coating solution suited to commercial roofing materials such as built-up roofs, modified bitumen, PVC, and EPDM.
Silicone is a popular choice among commercial building owners. Restoring a roof with silicone coating protects against heavy rainfall and provides superior UV stability. It is a solvent-based material making it ideal for cold temperatures. It also has a broader application window than other coatings with a water base.
Acrylic Roof Coating
Acrylic roof coatings suit various roofing substrates, including TPO, modified bitumen, spray polyurethane foam, and EPDM. This coating type is a cost-effective option making it the right choice for the business owner wanting to restore their roof on a limited budget.
Acrylic coatings are environmentally friendly, UV-resistant, and simple to install and maintain. They're also less harsh on equipment and easier to clean up than silicone coatings. Although an acrylic roof coating can work on numerous substrates, it's ideal for steep-slope metal roofs.
Why You Should Install Flat Roof Coating
A coating primarily aims to protect the existing roof from environmental factors. You can improve energy efficiency in your commercial space by applying a silicone coating to your flat roof. It will keep temperatures cooler during the hot summer months.
Avoiding a premature roof replacement project or limiting the need for repairs are excellent reasons to consider a roof coating project. You also extend the life of your roof by spraying it with high-quality coating materials. You can protect against outside elements, such as:
Hail

UV rays

Chemicals

Rust

Rain

Water damage and mold

Leaks

Wind
A coating mitigates natural wear and tear on aging and improperly maintained roofs. A flat roof coating can also offer peace of mind. Instead of worrying about damage and other problems, especially after intense storms, you can go about daily operations knowing you can avoid costly repairs.
Comparing Acrylic and Silicone Roof Coatings
You can't go wrong with either a silicone or acrylic roof coating. The deciding factor might come down to durability, application, or cost. You can compare the two during your decision-making process based on the following essential factors.
Reflectivity 
Silicone and acrylic roof coatings offer similar performance in reflecting thermal energy. Both have a thermal reflectance between 80% and 90%. However, one performs better longer. Roofs with silicone coatings typically get dirty six to 12 months after the initial application, decreasing the reflectivity effectiveness over time. Acrylic coatings can reflect thermal energy longer.
Cost 
Roof coatings vary in price. They are approximately $2 to $5 per square foot. Typically, acrylic is cheaper than silicone. You should contact Texas Select Construction for an official quote to determine what you might pay for your flat roof coating job.
Application and clean up 
Application equipment often have challenges with silicone coatings. Cleaning up the material also requires virgin mineral spirits. Installing acrylic coatings is simpler and creates fewer problems for the equipment. Clean-up only requires water.
UV stability 
Prolonged exposure to UV rays can cause acrylic coatings to break down, chalk, or become brittle. Silicone roof coatings are more stable to withstand harsh UV rays.
Durability 
Silicone and acrylic coatings have similar tensile strength. They maintain their durability for 10-15  years. However, silicone is more durable in the long term. Acrylic coating systems can lose thickness with age.
Resistant to ponding water 
Ponding water can lead to severe problems. It can compromise the roof's integrity, lead to mold growth, and potentially cause a collapse. Silicone coatings are ideal for resisting ponding water, especially on commercial flat roofs.
Environmental elements 
An acrylic coating is water-based, making it the better option for protecting a roof from environmental factors. Silicone coatings can be environmentally friendly when formulated with little to no solvents.
Aesthetics 
Acrylic and silicone coatings have a similar appearance. However, acrylic roof coatings provide a better aesthetic than silicone.
Is Acrylic or Silicone Better?
Choosing between an acrylic or silicone flat roof coating depends on your preferences. Other coating materials don't quite match the protection offered by silicone. It is the superior product for flat commercial roofing systems. However, it isn't always the best choice. You must consider the size of your roof, budget, and other factors while selecting the coating suited to your needs.
You should use an acrylic roof coating if:
Application occurs when temperatures are above 50 degrees

The cost of materials is a concern

You prioritize the long-term aesthetic appeal of your roof

Protecting your building from outside elements is necessary

You want a simpler application process
You should consider a silicone roof coating if:
You prioritize durability, UV stability, and longevity

Your commercial building has a flat roof with ponding water problems

The application will occur during colder temperatures

Appearance and aesthetics don't concern you

Waterproofing your roof is essential
Contact Us About Your Flat Roof Coating Today
A flat roof on a commercial property presents various challenges. Water and debris buildup can cause significant damage that affects the inside of your building. Applying a coating provides multiple benefits without breaking the bank.
Texas Select Construction can inspect your roof and advise you of the available coating options. Deciding between acrylic and silicone is difficult, but we can explain the advantages and disadvantages so you can make an informed decision.
Hire us for your flat roof coating project in Fort Worth by calling 817-770-0744 today for a free consultation.
SCHEDULE YOUR FREE ROOF INSPECTION TODAY!
Hire A Team of Roofing Experts
You Can Trust