PVC Roofing for Commercial Properties in Fort Worth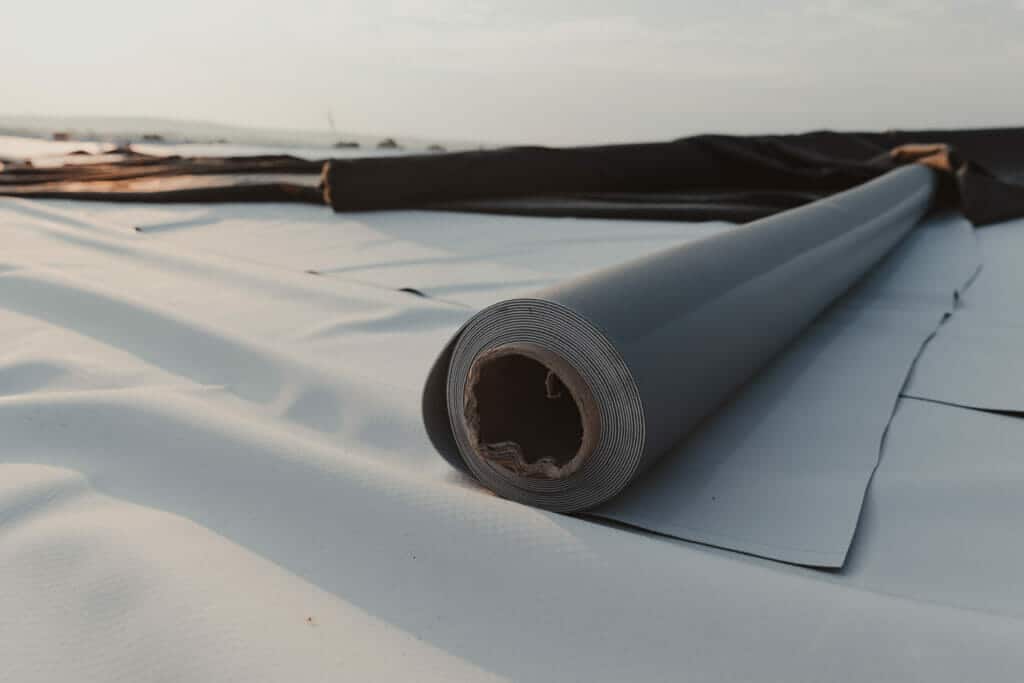 As a business owner, you can choose from various roofing systems. You want to protect your building or office space from the outside elements and damage. Polyvinyl chloride (PVC) is a high-quality, durable material ideal for low-slope and flat roofs. It can withstand the harshest conditions, from severe storms to flying debris.
At Texas Select Construction, our team of commercial roofing contractors has the necessary experience and skills to install a dependable and affordable PVC roof. We begin each project with an initial consultation to determine a client's specific needs. Once we learn your roofing goals, we will work efficiently to meet your deadline and stay within your desired budget.
If you want to learn more about PVC roofing, call Texas Select Construction for a free consultation at 817-770-0744.
A PVC roof has a single-ply membrane containing two vinyl layers bonded to a layer of polyester reinforcement scrim. Typically, the PVC membrane is light-colored or white to improve energy efficiency by deflecting UV rays.
Although you might picture plumbing pipes when considering PVC, the PVC used for commercial roofs can be flexible or rigid. The material is durable and can last for twenty to thirty years.
PVC roofing doesn't involve only one membrane. Installing this type of roof requires multiple layers designed to serve different purposes. These layers include:
Roof deck

– Hard material makes up the roof deck to serve as a foundation for other layers by getting secured to structural supports.

Insulation

– Typically, a layer of insulation rests on top of the roof deck in varying types and thicknesses. It depends on your energy efficiency goals and the weather conditions in your area.

Plates and fasteners

– Plates and fasteners securely connect the roof deck to the membrane sheets.

Bonding adhesives

– Bonding adhesives keep the materials in place and protect the roof during strong winds, rain, and storms.
Sealants and flashing might be necessary if a parapet, ventilation pipe, or HVAC unit extends above the roof's surface.
Advantages of PVC Roofing for a Commercial Building
PVC roofing offers numerous features beneficial to commercial properties in Fort Worth. These benefits include:
Lightweight materials

– Installing PVC roofing membranes might not require tearing off the current roofing system depending on building codes and the existing roof's condition.

Long lifespan

– A PVC roof has an impressive lifespan. PVC is a plastic material, making it flexible and able to handle expansion and contraction during temperature and weather changes. PVC also remains hot air weldable, allowing for simple repairs and alterations.

Fire and flame resistant

– PVC systems achieve fire ratings easier than other roofing products. They're unlikely to emit toxic gasses if a fire in the building affects the roof. PVC membrane self-extinguishes during flame tests, unlike other roofing systems that foster burning materials and spreading fire.

Flexible membrane

– PVC is a flexible material. Factory prefabrication is also possible, reducing on-site labor costs. In ideal factory conditions, workers can complete complex welding procedures for long-term roofing system installation.

Energy efficient

– You can reflect solar heat with white PVC membranes, reducing energy costs. HVAC systems can run more efficiently if the rooftop environment is cooler. A white, reflective roof lowers the ambient air temperature on hot days. It extends the roof system's life, decreases the stress placed on the insulation, and keeps energy bills down by preventing the HVAC system from running as much.

Chemical resistant

– Asphalt and single-ply roofing membranes can't handle harsh toxins and chemicals. They often suffer significant damage from direct contact. However, PVC can resist chemical damage making it a suitable material for warehouses, manufacturing facilities, and other businesses with frequent chemical exposure.

Recyclable

– You can recycle PVC, making it a desirable option for business owners looking to go green. Multiple programs use recycled roofing systems materials to make other products are available.

Water resistant

– PVC membranes are watertight. They can protect the structure from rain during storms and ponding water on the roof. They also resist bacteria and mold growth from standing water left behind by wet weather conditions.

Hot-air welded seams

– The membrane seam on the rooftop is more secure and lasts longer from hot air welding the membrane components in PVC roofing. It works better than other systems that use adhesives. The heat melts the pieces of overlapping membranes together, forming a uniform membrane sheet.

Low maintenance

– Although maintenance is necessary for any roofing system, PVC doesn't require as much maintenance as other materials. Prompt repairs are essential to address damage and prevent it from becoming a bigger issue. However, you can keep the roof in good condition with an annual cleaning to remove leaves, small branches, and other debris.

Cost-effective

–

PVC roofing is relatively cheap. The inexpensive material and its durability and longevity make it a cost-effective option for business owners wanting to protect their property without breaking the bank.

Color choices

– You can pick from multiple color choices to match your roof's style and complement the design of your commercial building. The options don't include only white or black. PVC comes in various colors to enhance the look of your property.
Why Hire Texas Select Construction?
At Texas Select Construction, our emphasis on customer service and quality craftsmanship has earned us multiple certifications and awards, such as:
Our company is also A+ rated and accredited through the Better Business Bureau.
Frequently Asked Questions About PVC Roofing
Customers often come to us with questions about their PVC roof project. Texas Select Construction can answer any questions to help you prepare for the process. Below are the most common questions we receive to give you an idea of what to expect.
How Long Does PVC Roofing Last?
The lifespan of a PVC roof depends on multiple factors, including the inspection schedule and weather conditions. The average PVC roof can last 20 to 30 years if maintained properly.
How Much Does PVC Roofing Cost?
The average cost of PVC for commercial roofs is $6 to $12 per square foot. 
Due to the potential fluctuations in pricing, we cannot guarantee the prices listed above. Please contact us for up-to-date pricing and a customized quote.
When Should I Replace a PVC Roof?
It depends. Although a PVC roof can last a long time, specific factors require a replacement before the end of its natural life. Common signs it might be time to replace your PVC roof include:
Leaking water from multiple areas

Visible signs of damage or age covering significant portions of the roof

Severe cracks or holes

Chronic ponding

Extensive mold growth
Contact Us To Get Started on Your PVC Roof Installation in Fort Worth
You should consider PVC roofing for your commercial property whether you recently purchased a building or want to replace your current roof. You can save money by extending your roof's life and cutting energy costs. The durability will help protect your property, employees, and business assets from water damage, wind, and other environmental factors.
You can also join our Roof Asset Management Program for commercial property owners. We take care of all the services you need to maintain the validity of your roofing warranty, plus plenty of other extras, like proactive cleaning and 24/7 priority emergency service.
Texas Select Construction has a team of Fort Worth locals who understand the needs of business owners regarding roofing jobs. We will install your new roof using quality materials and top-of-the-line tools to complete the job correctly.
Call us today at 817-770-0744 for a free consultation to discuss your commercial PVC roofing project.
Other Flat Roof Material Options
If you are investigating options regarding materials for your flat roof, you may wish to consider some of the other materials we work with:
We are also certified by Tropical Roofing Products to apply spray foam roof coatings, as well as the other flat roof coatings we work with.
SCHEDULE YOUR FREE ROOF INSPECTION TODAY!
Hire A Team of Roofing Experts
You Can Trust