Built-Up Roof (BUR) for Commercial Properties in Fort Worth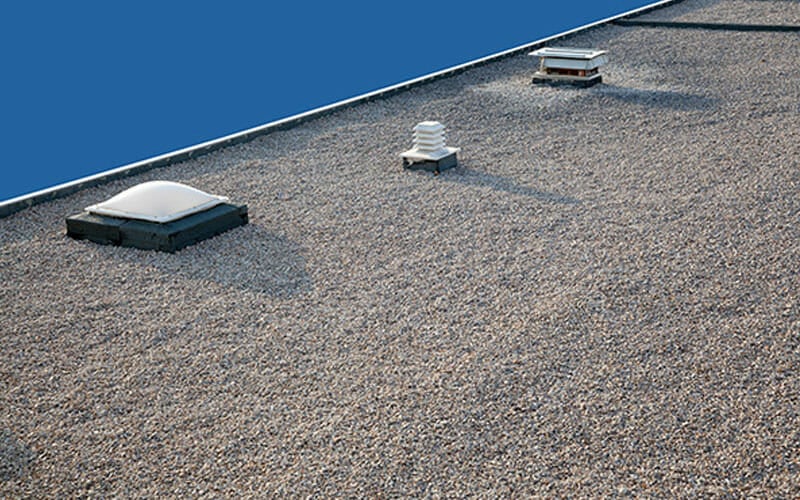 A built-up roof (BUR) system is a popular choice for flat and low-slope roofs on commercial buildings. It has been around for over 100 years. One of the reasons many people select this type of roof is because of its durability. The multiple layers of asphalt and ply sheet provide dependable protection against poor weather conditions and other environmental factors.
At Texas Select Construction, we understand the importance of installing a BUR on your newly constructed commercial space. You want to keep your investment safe. Your roof must withstand all the outside elements, so you don't have to shut down your business or halt operations for repairs. Our team of professional contractors can assess your building to determine whether a BUR system suits your needs and install a roof using high-quality materials.
Call Texas Select Construction today at 817-770-0744 for a free consultation to learn more about built-up roofing.
Built-Up Roof Options for Commercial Properties
There are two primary types of built-up roofing – ballast and modified bitumen.
A modified bitumen BUR gets installed onto the whole roof with adhesives. A ballast BUR gets fastened to different spots on the deck by the roofing membranes.
A modified bitumen roof contains asphalt and rubber with gravel as the top layer, while ballast roofing gets applied on a single-ply roof with a mix of smooth river stone and larger gravel.
Modified Bitumen BUR System
Three or more component layers make up a bitumen-built-up roof:
Base asphalt layer with modifiers

Ply sheets

Top surface
The asphalt in a modified BUR is the primary defense against water. Creating a uniform matrix by adding synthetic rubber or another similar agent to the material strengthens the asphalt and improves its resistance to punctures.
The multiple layers of ply sheets might contain materials such as:
Felt

Polyester

Fabric

Fiberglass

Plastic core materials
These sheets provide weather resistance, stability, and strength to the roof's structure. The exterior part protects the interior layers from debris and weather damage. It also releases heat to prevent heat and moisture from damaging the lower layers of the roof.
Two types of modified bitumen BUR are available – atactic polypropylene (APP) and styrene-butadiene-styrene (SBS). Both offer multiple benefits, and the better option depends on your needs and other factors, including the type and size of your commercial roof.
An APP-modified bitumen roof contains a rigid plastic for better membrane rigidity. An SBS-modified bitumen roof has synthetic rubber to give the roof better elasticity and flexibility.
Ballast BUR System
The roof membrane stays separate from the decking material with a ballast BUR, meaning it doesn't get adhered to or anchored to the deck. Typically, it gets ballasted with gravel, with the bottom sheet loosely laid over the roof deck.
Multiple membranes over the bottom sheet contain large stones in the top layer. The stones in the top layer secure the material to the roof despite the lower layers not getting adhered to the structure. Fastening these layers to several places on the roof deck helps prevent excess movement.
Benefits of a Commercial Built-Up Roof
Choosing a BUR for your commercial building can offer various benefits, including:
UV protection

– BUR is a cool roofing system protecting the roof and structure from UV radiation.

Waterproofing

– The continuous and seamless surface of the roof can prevent water from seeping inside the building.

Versatility

– You can install a BUR system on any roof deck, making it highly versatile.

Long lifespan

– A BUR remains durable for up to 30 years and protects against various environmental factors, including rain, snow, and wind.

Low-maintenance

– You must maintain a roof to keep it in tip-top shape, but a BUR doesn't require as much maintenance as other roofing materials.
Commercial Roof Installation Process
The base sheet is the bottom ply of a BUR. It gets fastened to the insulation or roof deck using base sheet fasteners to prevent blistering and allow vapor movement. An asphalt bonding agent spread along the roof's surface covers the base sheets. You can choose factory-made, fully adhering base sheets to prevent tears in the membrane if the insulation shifts in a storm.
Ply sheets or roofing felts are the following layers of roofing. The reinforcing fabric contains organic mats or glass fiber to resist thermal shock and moisture and increase the roof's durability. They get laid with alternating asphalt layers.
Aggregate materials such as stone, gravel, or mineral granules get applied to the surface layer of the BUR system. Sometimes, using mineral cap sheets or mopping the surface layer with aluminum roof coatings, hot asphalt, or elastomeric sealants is possible. It helps reflect UV radiation and protect the roof from the outside elements.
Maintaining and Repairing a Built-Up Roof
Routine maintenance is necessary to keep your BUR in good condition. You should also get semi-annual inspections to check for potential issues. Your inspection checklist should include:
Remove debris build up like rocks and leaves

Look for signs of deterioration and leaks

Inspect for roof stains

Check for cracks on the surface of the roof

Identify blistering and address the water source to prevent additional damage

Determine whether underlying insulation separated from the deck or thermal expansion caused damage and promptly fix the problem

Confirm condensation lines do not rest directly on the surface of the roof and ensure uninterrupted flowing to roof drains

Prevent or minimize foot traffic on the roof if possible

Keep chemicals and contaminants from directly contacting the roof
Check out our Roof Asset Management Program to learn more.
Frequently Asked Questions About BUR Systems
At Texas Select Construction, we understand you may have questions about installing BUR on your new commercial building. We have answered the most common questions our commercial customers ask so you can prepare for your upcoming project.
Your Title How Much Does Built-Up Roofing Cost?
A built-up roof usually costs between $4 and $12 per square foot. However, due to potential fluctuations, we cannot guarantee these prices and encourage you to contact us for a quote.
When Should I Get Gutters Installed?
After a built-up roof installation, you can install gutters on your commercial property. We design custom gutters for our commercial customers suited to the building's needs. Our quality materials provide durability and protection from environmental factors. You can expect a seamless and efficient process to complete the look of your new commercial space.
Is a Built-Up Roof Suitable for Solar Panels?
Solar panels work on all types of commercial roofs. You should include solar panels in the installation process if one of your goals is to save on renewable energy. A solar panel roofing system cuts down on energy use, reduces carbon footprint, and lowers utility bills.
Contact Texas Select About a BUR Roofing System Today
The knowledgeable and skilled team at Texas Select Construction are commercial roofing experts. We know how to install, repair, and maintain BUR systems on commercial properties. Check out our Roof Asset Management Program for commercial clients to learn more about how we offer our commercial clients priority service and peace of mind.
When you get in touch, we will explain all your available options and create a plan to complete the job within your timeline and budget. We use top-of-the-line tools and quality materials for every project we tackle.
If you want to install a built-up roof on your commercial building, call us at 817-770-0744 for a free consultation.
Other Flat Roof Material Options
If you are investigating options regarding materials for your flat roof, you may wish to consider some of the other materials we work with:
We are also certified by Tropical Roofing Products to apply spray foam roof coatings, as well as the other flat roof coatings we work with.
SCHEDULE YOUR FREE ROOF INSPECTION TODAY!
Hire A Team of Roofing Experts
You Can Trust