Modified Bitumen Roofing for Commercial Properties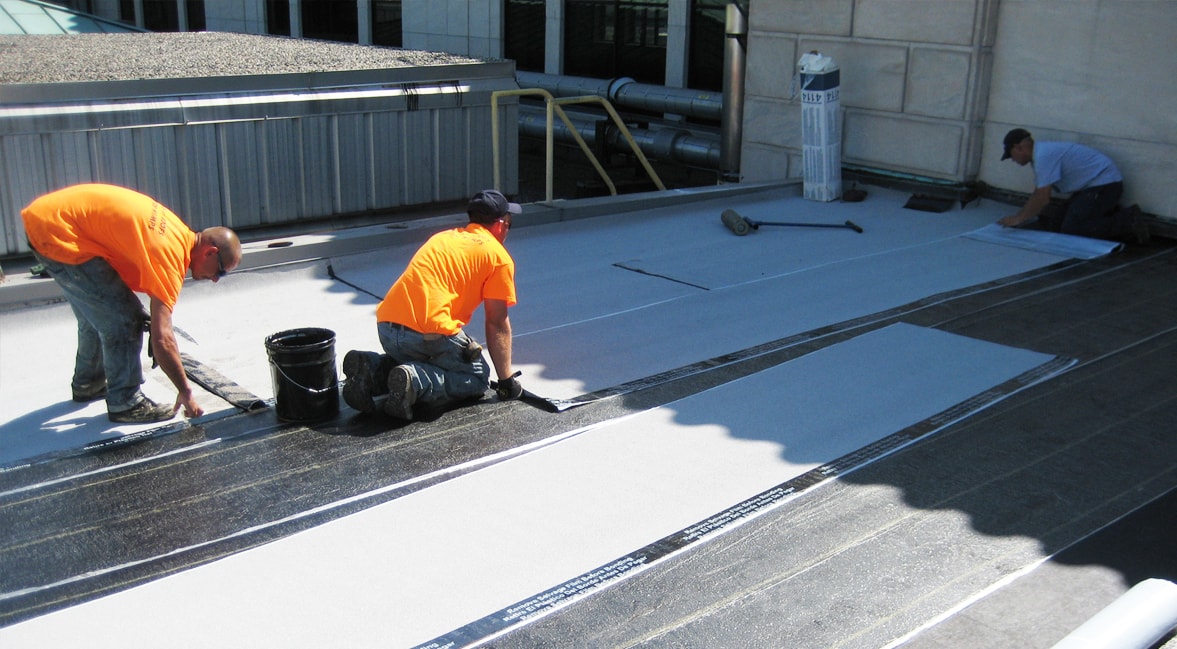 We understand the importance of a roofing system that can withstand harsh weather conditions and prevent damage from causing permanent and costly issues. We work with modified bitumen roofing because it is durable, practical, easy to maintain, and cost-effective.
As a business owner, managing employees and creating strategies for increasing revenue aren't your only jobs. You must also make informed decisions about the type of roof you select for your commercial property. Different roofing options are available to enhance the look of your building and protect everything inside.
We have documented a brief overview of modified bitumen roofing here, but if you have questions or want to learn more about your options, call us at 817-770-0744 for a free consultation.
What Is a Modified Bitumen Roof?
A modified bitumen roof is ideal for flat and low-slope commercial roofs. The membrane layers contain asphalt bitumen with polymers and fiberglass reinforcements. These reinforcements adhere to the flat roof for durability and weather-resistant benefits.
Two installation methods with modified bitumen are torch down and peel and stick materials. Installing peel-and-stick modified bitumen roofing saves money. Building maintenance workers often use this method to reduce time and cost. However, it tends to fail more than a torch-down roofing system installed by a professional contractor.
A roofing installation specialist uses an open flame to heat the membrane of the modified bitumen during a torch-down installation. A hand-held torch increases the temperature of the materials to adhere them to the underlay and meld the seams together. It helps protect against UV rays, water, and other environmental factors.
Protecting a commercial building requires specific modified bitumen roofing installations. Two-ply SBS-modified bitumen membranes and three-ply hybrid roofing systems are two of the most cost-effective options.
The torch-down installation with SBS-modified or APP-modified bitumen suits commercial buildings with flat or low-slope roofs. Either membrane can lower energy costs and protect the building from the elements for many years.
However, SBS and APP-modified bitumen membranes contain different base materials.
APP-modified bitumen membranes are plastomeric and contain a rigid type of plastic called atactic polypropylene. It makes the membrane more rigid after application. Temperatures reach 300 degrees or higher using the torch-down installation method to melt and mop the material across the roof's surface. It is a cost-effective choice that increases a roof's lifespan.
SBS-modified bitumen contains a synthetic rubber called styrene-butadiene-styrene, providing greater flexibility and elasticity. It is ideal for a commercial building with a sloped roof.
Layers of a Modified Bitumen Roof
Modified bitumen roofing involves more than one layer of material. It offers significant protection from high winds, rain, and hail and maximizes energy efficiency with multiple layers of materials, including:
Insulation layer

– Preventing cooling and heating losses requires a thick layer of insulation on a flat or slow-slope commercial roof. A strategic system of plates and screws or hot mopping attaches quality insulation to the modified bitumen roofing.

Vapor barrier

– Above the insulation layer is the vapor barrier that prevents moisture buildup from condensation. Controlling moisture is necessary because too much can lead to mold growth or weaken structural supports.

Overlay board installation

– A protective cover board must rest above the insulation and vapor barrier with a torch-down roofing system. Water can pond on the surface of a modified bitumen roof from incorrect overlay installation.

Base sheet installation

– The base sheet is the first layer of the roof material. The contractor can hot mop or torch it during installation.

Cap sheet installation

– A heating process melts the outer layer of the modified bitumen membrane together, and an initial roll roofing material clings to the base sheet to protect the building's structural integrity. The roof of a commercial building might require multiple layers for adequate protection.

Parapet and flashing

– You must have flashing and sealants for HVAC systems, parapet, and piping that rise above a flat or low-slope roof. Metal flashing is common for preventing water from penetrating around the parapet edges.
Benefits of Modified Bitumen Roofs for Commercial Buildings
Using a modified bitumen roof for your commercial property can provide various benefits, including:
Cost-effective and efficient installation

– Installing a modified bitumen roof is often straightforward for an experienced roofing contractor. The material is also cost-effective, so you can save money and use it on other aspects of your business.

Flexible and durable

– A torch-down installation method provides flexible and durable roofing materials that can withstand hailstorms, intense temperatures, and high winds. You can choose multiple roof layers to protect your building and employees from poor weather conditions and other outside elements. Modified bitumen lasts for around twenty years.

Greater lifespan – You can increase the lifespan of your commercial roof with proper maintenance and repairs. Life expectancy depends on the weather, installation, membrane thickness, and other factors. Check out our Roof Asset Management (RAM) Program to help you get the most value for your money.
Easy maintenance and repairs

– Minimal maintenance is necessary to keep a modified bitumen roof in good condition. Damage doesn't often occur, so you don't have to worry about cracks, holes, or leaks. However, damage can result from severe storms requiring prompt and adequate repairs. Sometimes, sealant and flashing repairs are necessary as the roof ages.

More energy efficient

– You can design your modified bitumen roofing system to reflect thermal and solar energy. The materials can absorb sunlight to control inside temperatures and lower energy consumption, reducing energy bills.
Frequently Asked Questions
Texas Select Construction understands the stress of selecting a roofing material and proceeding with the project. It might seem like a significant undertaking. However, we simplify the process by explaining the options and guiding you during each step. 
Below are answers to the most common questions our customers ask to help you prepare for your new modified bitumen roof.
How Much Does Modified Bitumen Roofing Cost?
A modified bitumen roof ranges from $3 to $7+ per square foot.
Due to the potential fluctuations in pricing, we cannot guarantee any prices you may find online. If you are interested in using this material on your roof, we encourage you to contact us for a quote.
How Long Does Modified Bitumen Roofing Last?
The material used in modified bitumen roofs is flexible and durable with a mineral top coating. Modified bitumen can maintain durability and last 10 to 20 years with adequate maintenance.
How Often Does a Modified Bitumen Roof Need Inspecting?
Semi-annual inspections are necessary to detect damage and signs of issues before they become problematic.
Contact Us to Learn More or Schedule A Free Inspection
You should not trust a modified bitumen roofing project to just any commercial roofing contractor. Texas Select Construction has years of experience installing and repairing modified bitumen roofs for commercial clients. We use quality materials and dependable techniques to do the job right the first time.
Call us at 817-770-0744 for a free consultation in Fort Worth to discuss installing or repairing a modified bitumen roof for your commercial property.
Other Flat Roof Material Options
If you are investigating options regarding materials for your flat roof, you may wish to consider some of the other materials we work with:
We are also certified by Tropical Roofing Products to apply spray foam roof coatings, as well as the other flat roof coatings we work with.
SCHEDULE YOUR FREE ROOF INSPECTION TODAY!
Hire A Team of Roofing Experts
You Can Trust