Commercial Roof Replacement
Commercial Roof Replacement Services in Fort Worth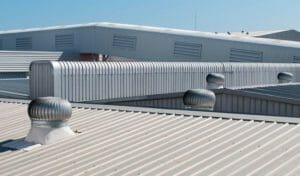 Sometimes, a quick fix can effectively address natural wear and tear, damage, and other roofing issues. However, some damage is too extensive to fix. If the roof on your commercial property is at the end of its lifespan, you might have to replace it entirely. Turn to a local Fort Worth roofing contractor with years of experience doing commercial roof replacements.
As a business owner, investing in a durable roof is critical. An adequate roofing system adds aesthetic appeal to your building while protecting everyone and everything inside. Keeping your property safe from the elements and free of damage is crucial. We offer financing and various services to ensure you get a roof that fits your budget and needs.
If you are considering replacing your roof in preparation for selling your property, contact us to perform a pre-sale inspection. We can help you avoid any pitfalls that could stall the sale later down the line.
At Texas Select Construction, we know how to handle the most complicated commercial roofing projects. We provide personalized services to ensure you get the roof that meets your requirements. Call us at 817-770-0744 for your free inspection today.
Deciding If You Need A Roof Replacement for Your Commercial Property
You might think repairing your roof is more cost-effective than a total replacement. It can be, but the costs add up over time. Eventually, you spend more money on all the repair jobs combined than on one replacement, which ends up lasting longer.
On older roofs, you save money in the long run by choosing a replacement. This is especially true if you must address multiple areas of significant damage and other problems.
Texas Select Construction can assess your building to determine whether a replacement is necessary. We will explain the benefits and disadvantages of each service so you can make an informed decision. We will only suggest a replacement if it suits your needs.
Common Reasons to Replace a Commercial Roof
 Multiple factors might necessitate a roof replacement, including:
Structural damage

– Damage can compromise the structural integrity of a commercial building. A roofer might be unable to resolve fissures or cracks from an aging roof or wear and tear from outside elements. Many roofs have a lifespan of 30 years or less. Beyond that, it is usually more cost-effective to replace the entire roofing system.

Water damage

– If water finds its way to the interior parts of your building, it could be a sign that a complete roof replacement is needed. Leaks can cause additional damage and eventually lead to a collapsed roof. A total replacement might be the best option to avoid ruining the building's contents and injuring employees and visitors.

Unsightly appearance

– An outdated or damaged roof isn't aesthetically pleasing. It might deter potential customers or cause you to lose business. You should consider replacing the roof to transform your commercial property and keep it looking attractive and new. A new roof improves the appearance and increases the value of your property.
Common Commercial Roof Types and Materials
At Texas Select Construction, we offer various roofing options for your commercial business. We can inspect your roof and explain the types and materials we think will work well for your property.
Roof Types
A flat roof is the most popular choice for commercial buildings because of the relatively low installation cost and easy access. Workers can walk on a flat roof more easily than other types. Installing solar panels is also a straightforward process if you are concerned about energy efficiency.
Sloped Roofs
Sloped roofs are common for residential homes. However, more businesses are opting for sloped roofs to address the drainage issue flat roofs create. Whether you have a steep or slight pitch, a sloped roof allows water to run off and prevents standing water that can lead to flooding and other problems.
Whether your roof is sloped or flat, Texas Select Construction can create custom gutters for commercial properties, and design a drainage system that will protect your roof for years to come. Contact us to learn more and schedule a free inspection.
After determining the type of roof you have, choosing a material is the next step. Texas Select Construction offers affordable and durable roofing materials for any commercial property.
Roofing Materials
A modified bitumen roof can work for your business if the building is flat or low-sloped. Five layers mimicking asphalt can protect your commercial property from the outside elements for ten to twenty years. 
TPO is a popular choice. The material is synthetic and single-ply, making it effective on flat commercial roofs. However, it can also provide benefits for sloped roofs.
PVC is similar to TPO. However, it is not the exact same roofing material. It can protect commercial buildings from poor weather conditions on slightly sloped or flat roofs. A properly installed PVC roof has a lifespan of 25 years. 
BUR roofs contain layers of gravel and tar and provide 15 to 30 years of durability. The material can withstand strong winds, rain, and other environmental factors.
An EPDM roof is ideal for sloped roofs. Comprised of synthetic rubber and made of propylene and ethylene, it offers exceptional durability for 20 to 30 years with adequate care. 
Metal roofs remain one of the most durable and reliable choices for a commercial property. They're durable, lightweight, energy-efficient, and fireproof. Plus, the wide variety of colors and styles allows you to customize the look.
Added Protection
For properties with a flat or slightly sloped roof, we also offer flat roof coatings. We are certified by Tropical Roofing Products to apply their spray foam roofing products.
The price of roofing materials can fluctuate. Contact us for an official quote.
How Much Does It Cost to Replace a Commercial Roof?
The cost of a new commercial roof varies considerably. You should get a quote from Texas Select Construction to determine the scope of work and costs associated. Below are multiple factors that can contribute to the cost of a commercial roof replacement.
Size and Materials
The size of your commercial roof will significantly affect the replacement cost. A larger roof requires more materials which means more money. For example, replacing the roof on a single-family rental home will cost less than a roof replacement for a shopping mall.
The materials you select for the project will also factor into the final cost. The price will depend on the price per square foot of your chosen material and the square footage of your commercial roof.
Roof Angle
Typically, commercial buildings have a flat or sloped roof. While flat roofs are more common, some aren't entirely flat. They often have a slight slope to prevent water buildup, directing the water toward the gutters.
A sloped roof has a peak, as you can find on residential homes. It is less common than a flat roof, but commercial buildings can have them.
Typically, commercial flat roofs cost less than sloped roofs. They're also safer and easier for roofers to navigate.
Accessibility

The cost of a new commercial roof involves more than the roof itself and the materials you choose. Pricing also includes the cost of labor. A contractor can charge for labor depending on accessibility. This refers to a contractor's challenges accessing the roof.
Accessibility can include factors such as:
Occupancy

Building height

Property access

Material storage areas
Skyscrapers need cranes to carry and lift materials, so labor costs are more expensive than replacing a roof on a two-story apartment complex. Transporting and storing roofing materials within the contractor's reach can also affect the price. Accessibility is often tricky in a densely populated city.
Occupancy is also essential in determining the cost of replacement services. The contractor must account for the health, safety, and comfort of everyone in an occupied building. It can increase the price if roofers must complete the job on weekends or at night to mitigate the risk of occupant injuries.
Underlayment
An underlayment consists of materials under a finished roof, such as:
Cover board

A structure like a metal or wood deck

Insulation

Additional substrates
The condition of the underlayment can directly impact the cost of replacing the roof. Significant damage means it also needs replacing, increasing the final expense.
Code Requirements
As a commercial property owner, you must meet various local and state codes. These codes can affect numerous aspects of a roofing project, such as:
Insulation

Fire resistance

Decking or substrate

Ventilation

Wind loads

Slope dimensions
You might have to pay more for labor or materials to comply with the required codes.
Roof Warranty
Your warranty is the final factor that can contribute to the cost of replacing your roof. A replacement service is a significant investment. You want to ensure you spend your money wisely, so you should know what your warranty does and does not cover. 
A warranty is included in every roofing project we handle at Texas Select Construction. They cover manufacturer defects (product warranty) and workmanship issues. Damage caused by weather events, lack of upkeep, and negligence will void warranties. That is why we created our Roof Asset Management Program so that you can make sure you get what you need to keep your roof warranty valid.
Contact Us Today About Your Commercial Roof Replacement
At Texas Select Construction, our dedicated team provides our customers with dependable roofing services that meet specific deadlines and budgets. We will advise you of our many options and guide you on the decisions that can provide the ultimate protection for your commercial property.
Ask us about our Roof Asset Management (RAM) Program for quality and cost-effective maintenance. With our program, you will receive 24/7 monitoring and priority response, yearly inspections, warranty compliance, and proactive cleanings. When disaster strikes, you can avoid unnecessary expenses on fixing damage and other roofing issues.
Call Texas Select Construction at 817-770-0744 today for a free commercial roof inspection. Let our experienced professionals transform your roof with our quality replacement services.
SCHEDULE YOUR FREE ROOF INSPECTION TODAY!
Hire A Team of Roofing Experts
You Can Trust