Commercial Roof Inspection
Pre-Sale Commercial Roof Inspection in Fort Worth, TX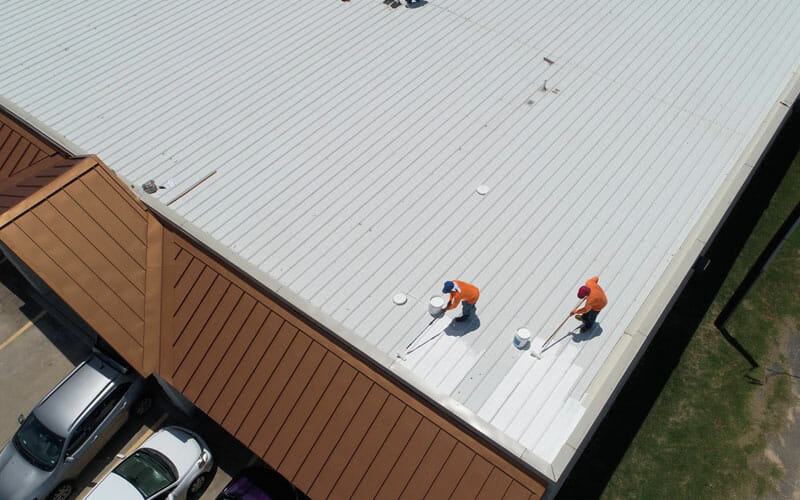 Deciding to sell your commercial property isn't easy. However, you might decide that it is time to list your office space or building and move on to the next chapter in your life. Whether you're a commercial real estate agent or building owner, it's important to understand that a roofing inspection is critical before listing a commercial property for sale.
At Texas Select Construction, we understand the stress of additional expenses before selling your commercial space. Fixing natural wear and tear, damage, and structural defects can save you money in the long run and attract more potential buyers. You should inspect your commercial roof every six months whether or not you plan to sell.
Following a simple checklist can keep your roof in top condition while preventing minor issues from turning into expensive and time-consuming repairs.
Call Texas Select Construction for a free consultation at 817-770-0744. Learn how we can help you with your pre-sale roof inspection in Fort Worth.
What to Expect During a Roof Inspection
The inspection should occur before listing the commercial space. Texas Select Construction can thoroughly inspect and evaluate the roofing system to determine what needs to get done before placing the property on the market. Below are the steps often involved in a roof inspection.
Assess the Interior Areas
A roof inspection involves more than checking the exterior portions of the commercial property. A knowledgeable roofer knows to look inside the building for damage and other issues first. The inspection will begin by checking for water damage and determining the source. Checking the water path can indicate where the leak came from to fix that problem.
For example, water might be entering an apartment complex unit from directly above if you notice stains or discoloration on the ceiling in a bathroom.
Walk the Entire Roof
After assessing the interior, a roofing specialist will take the inspection outside. They can walk the entire roof to check for potential problems they must address, such as:
Blistering

Ponding water

Uplifted shingles or nails

Cracks

Holes

Mold growth

Separating seams

Sinking structure
The inspection typically starts around the perimeter, gradually working toward the middle of the roof. That ensures every inch gets a detailed look. The perimeter is also a common source of leaks since the endpoints of a roofing system can lift or peel away from the surface due to strong winds and other environmental factors.
Take Core Samples
A core sample involves removing a small area of the roof to determine information such as:
Which material is the substrate

Age of the roof

Number of roofing layers

Level of moisture or saturation
This is essential to an inspection because some commercial properties have a drop ceiling or areas where you can't see the roof deck from inside the building. A core sample can indicate the type of decking, like steel or wood. The number of core samples needed will depend on the slope, roof size, location of traveling water, and other areas of interest during the interior inspection.
Create a Property Inspection Report
You will receive a detailed inspection report. The report should address discovered damage, areas causing leaking water, saturated roof parts, and recommendations for roofing services.
These recommendations might include:
Restoration

– A restoration might be necessary if your roof has less than two to three years of life remaining and the inspection uncovers less than 25% saturation. Without a restoration, you'll likely need a total replacement at the end of your roof's lifespan, which is significantly more expensive than restoring the roof.

Repair

– Sometimes, a repair can bring the roof back to its original condition so the commercial space is ready to sell. The inspection might uncover less than 5% saturation of the roof and minimal areas allowing water to enter the interior space. In that case, a repair is a cost-effective solution to ensure the roof is up to code and meets the necessary regulations.

Replace

– A total replacement is necessary if the roof is over 25% saturated. A repair will likely only lead to additional repairs that will cost you much more. A buyer might require an inspection before agreeing to purchase the building. If the inspection uncovers significant problems, it can decrease the sale price. By replacing the entire roof before listing the property for sale, you avoid situations that devalue the property.
These are some examples of when you should get your roof restored, replaced, or repaired. We will explore all circumstances requiring a repair, replacement, or restoration while making our recommendations.
Why a Roof Inspection Is Essential Before Listing Your Commercial Property
You might think your building is in good enough condition to sell without an inspection. Although repairs can be costly, you will likely save money by locating damage and addressing problems that can deter potential buyers.
Commercial roofs can last up to 30 or 40 years, depending on the type, material, and maintenance performed. However, that doesn't mean you don't need inspections to ensure everything functions correctly.
Wear and tear is common on roofs, especially on larger buildings. Adverse weather can break tiles, loosen shingles, and compromise the integrity of the entire structure. Critters can also damage the roof, creating holes that expose the inside of your building to the outside elements.
The factors you should consider while deciding whether to get a roof inspection before selling your commercial property include:
Learn the facts from a professional

– You can eyeball your roof to locate damage and other problems. However, an experienced roofing contractor can inspect every inch of your roof to determine issues you must address immediately. Asking an employee to climb onto the roof and take a look isn't a reliable method. They don't know the signs of water damage and other indicators that a repair is necessary. A professional can advise you of potential problems and suggest solutions to ensure your roof is in good shape. This is critical when you are looking to sell your property.

Maintain negotiating power

– You can use the information you learn during an initial roofing inspection while negotiating pricing with a potential buyer. The roof and outside of a building are the first things buyers see. A roof that looks outdated or worn out isn't appealing. It means the buyer must spend additional money for a repair or replacement. Knowing about the damage and estimated cost of services can help you adjust your sale price accordingly if you decide not to proceed with the repairs yourself. Taking the time to make those necessary repairs allows you to increase the sale price because a new or fixed roof adds value to the property. You put yourself in a better position to negotiate since you know how much your commercial building is worth.

Avoid closing delays

– A commercial roof inspection prevents buyers from hiring someone to inspect the roof and other parts of the property. That can move the sale along, so you can close more quickly. Your roofing inspector might uncover mold growth from leaking water or damaged tile from a previous storm. They can repair it immediately, so you don't face surprises after placing the property on the market. If the inspection doesn't uncover any problems, that can benefit you when it's time to sell. You can show the inspection report to potential buyers, so they know they won't have to pay for repairs or inspections themselves. That saves time to keep the process moving along to closing.

Prevent unexpected expenses

– An unexpected expense can create multiple challenges for a commercial property seller. You don't want to face more costs than necessary when placing your office space or building on the market. By completing a roof inspection before listing your property, you mitigate the risks of unexpected costs later and rest assured knowing you don't have to fix any issues. Commercial insurance sometimes covers repairs, so an unexpected cost might not be your responsibility. Although discovering a problem you must promptly address can lengthen your desired sales timeline, it might not cost you anything if your insurer pays for the service.

Safety

– You don't want to sell a commercial property that later causes injuries to someone. A buyer might forego their own inspection, but leaving damage and other issues unrepaired can make you liable for an accident. You must inspect the roof to ensure there aren't any structural problems, water leaks, mold growth, or other problems that can hurt someone.

Peace of mind

– You guarantee peace of mind by inspecting your roof before listing your property or entering into a sales agreement. You know you did what you needed to protect your interests and provide the buyer with a roof they can depend on for years to come.
Contact Us About a Commercial Pre-Sale Inspection Today
Repairing or replacing your commercial roof before selling your property can increase its lifespan, improve the property value, and offer adequate protection. You should only proceed with a sale after you get a thorough inspection by an experienced commercial roofing professional.
Texas Select Construction offers official, in-depth pre-sale inspections of commercial roofs as well as a full range of other commercial roofing services. We will advise you of the damage we find and explain the available options to fix it. Our team of professionals will guide you through the entire process and work efficiently to meet any deadlines you have.
If you are interested in an assessment of your commercial roof before listing your property for sale, call Texas Select Construction at 817-770-0744 today for your free inspection.
SCHEDULE YOUR FREE ROOF INSPECTION TODAY!
Hire A Team of Roofing Experts
You Can Trust