Commercial Roof Installation
Roof Installation Services for New Commercial Buildings in Fort Worth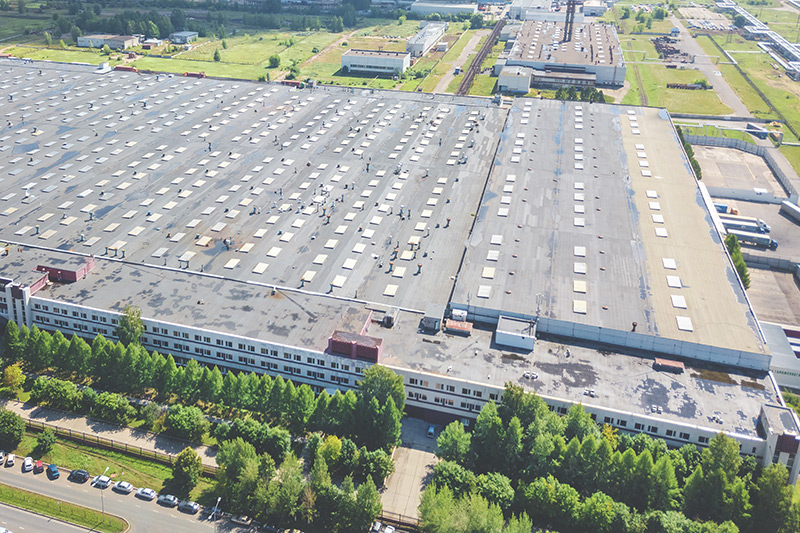 A new commercial building requires a location, a budget, a design, and a roof that meets your professional needs. A suitable roof protects your building from the outside elements and increases the property's value. When correctly installed, a roof can withstand harsh weather conditions and other environmental factors. At Texas Select Construction, we have a lot of experience with commercial roof installations on new buildings, so you can expect a level of professionalism that will leave you with a durable, long-lasting roof.
We only employ the most experienced, best-trained roofers. Our team is familiar with the unique needs of local business owners. You want a beautiful property that attracts new customers while improving the lifespan and efficiency of your roof. Call Texas Select Construction at 817-770-0744 for a free inspection or to learn more.
Roofing Material Choices for Your Commercial Project
Texas Select Construction offers numerous roofing materials to meet your budget and needs during an installation project, including:
PVC roofs provide twenty to thirty years of dependable durability. They cost anywhere from $6 to $12 per square foot. You can expect significant protection from the outside elements for up to 25 years. They work best on slightly sloped and flat roofs.
Modified bitumen roofing is ideal for a low-sloped or flat roof. They contain five full layers that look like asphalt and offer protection against environmental factors such as rain, wind, and snow. Modified bitumen offers ten to twenty years of durability and a relatively low cost. The price range per square foot is between $3 and $7.
TPO is a popular material for various types of roofs, including commercial buildings. It is a synthetic, single-ply material beneficial for flat roofs. However, you can choose to have it installed on a sloped roof.
BUR roofing contains layers of gravel and tar for extra durability and protection. The material costs between $4 and $12 per square foot, with a lifespan of up to 30 years.
The propylene and ethylene in EPDM are suitable for a sloped roof but can also adequately protect a commercial building with a flat roof. Repairing damage to this material is simple, and proper maintenance offers 20 to 30 years of dependable durability.
Pricing varies depending on multiple factors, including the type and size of the commercial roof. These prices are approximate. You'll need to contact Texas Select Construction for an official quote to determine how much you can expect to pay for your roofing project.
Commercial metal roofs are also viable options. They offer multiple benefits, including easy repairs, simple installation, and durability. Your design preferences and the type of building you own will determine the metal roofing you select. The most common include:
Standing seam metal roofing

– Raised seams sit above and run across the roof's surface to create a watertight seal. The design offers significant reliability and durability. Proper upkeep increases the lifespan of a standing seam metal roof.

Steel roofing

– A steel roof is one of the most low-maintenance metal roofs on the market. Its durability can withstand hail and intense storms without needing repairs or sustaining problematic damage. The reflective surface of a steel roof also improves energy efficiency for your commercial building.

Aluminum roofing

– An aluminum roof is affordable, eco-friendly, and long-lasting. It also contains reflective properties to maintain a comfortable temperature inside the building.

Corrugated metal roofing

– Manufacturers roll galvanized steel into a wavy pattern creating sturdy metal that can withstand the outside elements and manage water flow. It is an ideal material for commercial roofs that provides excellent durability.
Roof Coating Products for an Extra Layer of Protection
Texas Select Construction is certified with Tropical Roofing Systems for spray foam and coating installations. Tropical Roofing Systems offer various coating and spray foam products to protect multiple roofing systems on commercial properties.
Installing any products from Tropical Roofing Systems involves cleaning the roof's surface and preparing it for application. After applying your desired product, it needs time to cure. Experienced professionals use specialized equipment to handle and apply the products safely and efficiently.
Topical Roofing Systems will provide your roof with durability, weather resistance, and cool roof technology. Roof coatings, sealants, mastics, and cements are a few of the products available for sloped roofs, metal roofs, flat roofs, and other roof types.
Strive for Energy Independence with Solar Roofing for Commercial Buildings
Flat roofs are ideal for solar panels. However, you can add solar roofing to any commercial building. The cost depends on the number of panels used during the installation. The more solar panels you need, the higher the price. Solar roofs can be more expensive than other types of roofs. However, the payoff can be significant, benefiting you in the long run.
Texas Select Construction can assess your commercial property to determine the appropriate installation method. Typically, flat roofs use ballasted racking to secure panels to the roof deck with cement blocks or other heavy items. With sloped roofs, attached racking is necessary to secure the panels using hardware to penetrate the structure.
The material in solar panels contains photovoltaic cells that use the sun's energy to produce electrical energy. You can power your commercial space with renewable energy that reduces your carbon footprint and energy bills.
Steps in Installing a New Commercial Roof
Installing a new commercial roof can be complicated. However, Texas Select Construction has the necessary experience, skills, and equipment to provide installation services you can trust. We will communicate with you during every step so you know what to expect and the project's status.
Every commercial roofing installation differs but involves these steps:
Initial consultation

– We offer professional consultations so that a Texas Select Construction contractor can assess your new commercial structure and advise you of the available options. Free of charge!

Roofing services

– We will install a roof using quality materials to meet your needs. As business owners, we understand the importance of protecting your investment. Our state-of-the-art equipment can reduce the project's duration to minimize its effects on starting your business or opening a new location.

Clean up

– We don't wait until the project is complete to clean the mess. Our team will inspect the area at the end of each day to maintain a presentable property. You don't have to worry about encountering tools, equipment, or debris that increase the risk of accidents.

 
Texas Select Construction only considers projects complete once you approve the result. We prioritize client satisfaction. If you're unhappy with the outcome of your roof, we are happy to address the problem.
Why Hire Texas Select Construction?
Our experienced roofers are Fort Worth locals. We believe in providing our customers with dependable customer service and quality roofing services. Our dedication and professionalism have earned us many certifications and awards.
We belong to:
We also have an A+ rating from the Better Business Bureau.
Commercial Roofing Certifications
Residential Roofing Certifications
Frequently Asked Questions About New Commercial Roof Installation Projects
At Texas Select Construction, we understand you might have questions about your commercial roof installation. We answered our clients' most common questions to help you prepare for the process.
What is the life expectancy of a brand-new commercial roof?
It depends on the roof you choose. Commercial roofs can last 20 years or longer if installed and maintained correctly. That means hiring a reputable roofing company for the installation and inspecting your roof regularly to locate and repair damage. The type of roof and materials you choose will also determine the lifespan. Polyvinyl chloride (PVC) lasts up to 25 years, while a metal roof has a life expectancy of around 50 years. Inquire about our Roof Asset Management Program to prolong the lifespan of your commercial roof.
What type of roofing system is best for my commercial building?
Texas Select Construction offers various roofing options. The list is extensive. The type of roof and material necessary to protect your building depends on the type of business you own.
Restaurants require materials resistant to oil, grease, and animal fat. These substances get sucked out of the kitchen through vents directly contacting the roof as they rise into the air. A sturdy metal roof on a warehouse can protect valuable products from poor weather conditions.
Our knowledgeable contractors can advise you on the available options and which can work best for your business.
How long does a roof installation take?
Multiple factors contribute to the duration of a roof installation, including:
Type of material

– The material you select and its availability will factor into the timeline. Commercial spaces with higher square footage require more material and take longer to install.

Project size

– The scope of the roofing project will affect how long the installation takes. The more significant the job, the more time it will take.

Weather

– The weather can delay the job. Light rain might not be an issue, but severe storms create safety concerns for contractors.

Permits

– The law requires permits for new construction and inspections to ensure the roof meets regulations and gets installed properly. It can extend the timeline, especially if problems arise.
Contact Us To Work With A Trusted Commercial Roof Installation Company in Fort Worth
Texas Select Construction leverages technologically advanced equipment and tools to provide our customers with quality roofing solutions. We can help you meet your goals regardless of the type of commercial roof installation you want.

Furthermore, we do official pre-sale inspections of commercial roofing systems, complete with a report. So you can rest assured you won't run into problems that may affect the closing of a sale later down the line.
Call us at 817-770-0744 for your free consultation to discuss your next roofing installation project with us.
SCHEDULE YOUR FREE ROOF INSPECTION TODAY!
Hire A Team of Roofing Experts
You Can Trust