Commercial Roof Repair in Fort Worth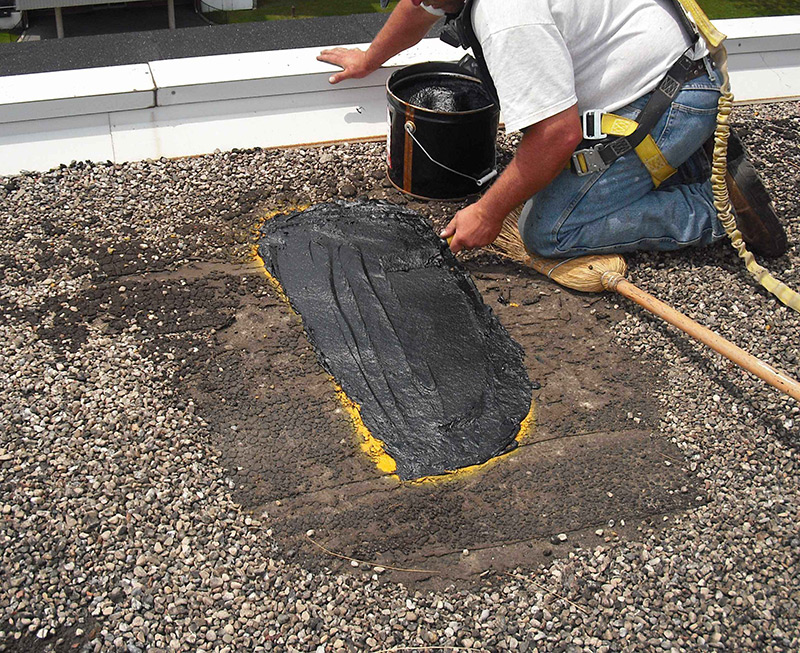 Repairing the roof on your commercial property is necessary for maintaining an attractive appearance and preventing minor damage from becoming problematic. At Texas Select Construction, we understand the importance of keeping your roof in excellent condition to protect your building from the outside elements. A prompt and adequate repair can prevent a more significant and costly issue in the future.
To learn more about our commercial roofing repair services, call Texas Select Construction at 817-770-0744 for a free consultation.
Type of Roofing Materials We Can Repair
Our commercial roofing contractors have the tools and experience to work on nearly any roof. We work on flat and sloped roofs and have experience with the following materials:
These are the most common roofing materials used on commercial roofs. If your roof is made of a material that doesn't appear on the list above, please contact us directly for more information.
When You Should Consider Repairing Your Commercial Roof
A leaking roof is one of the most common reasons business owners turn to roof repair services. However, multiple other issues can require repair. Whether you have mold growth or rotting materials, a repair can prevent additional damage and reduce the risk of a collapsed roof or compromised structural integrity.
The most common reasons to repair a commercial roof include:
Leaking water

– A leak commonly occurs when heavy rains leave a pool of water on a flat roof. They can also result from improper roof installation, cracked roofing systems, or loose tiles. An older roof is more susceptible to damage that allows standing water to leak into the building. Leaks can lead to water damage and mold growth. You should get your roof repaired if you notice peeling paint, stained ceilings, or mold.

Aging roofs

– A correctly installed and well-maintained commercial roof can last up to 30 years, depending on the type of roof and materials you choose. Over time, the materials begin to deteriorate. Rust can form, shingles can tear away from the surface, and tiles can start to crack. Natural wear and tear and poor weather conditions cause additional damage you can't ignore. A repair is necessary to restore the look of your roof and improve its durability.

Missing or damaged shingles

– Strong winds, heavy storms, and other extreme weather can shake your shingles loose or cause them to curl, break, or blow off the roof. Irregular or darker shades on some parts of the roof or granules in your gutters might be signs of damaged shingles. You should get an inspection to determine if a roof repair can create a more uniform look and prevent water leaks in the spaces left by the missing shingles.

Damaged flashing

– Flashing prevents water from pooling on the roof. When it rains, it redirects the water to decrease the risk of damage and water leaking directly into the building. Flashing can deteriorate, crack, or loosen with time and age. Discovering the problem early can prevent more costly repairs in the future.

Holes and punctures

– A punctured roof is an emergency you must address immediately. A hole in the roof exposes your building to the outside elements and critters. Fallen tree branches, workers walking on the roof, and large hail can cause holes. You must fix the punctures or holes before they grow and cause more damage.
To reinforce your roof after a repair, we often recommend considering a roof coating. We work with silicone and acrylic products, as well as spray foam roofing from Tropical Roofing Products.
Benefits of a Commercial Roof Repair
Opening a business is a serious investment. You must provide your employees and visitors with a place where they feel – and are – safe. A sturdy roof offers the necessary protection from environmental factors (and legal problems). It also adds value to your property.
Ignoring leaks, damaged materials, and other issues can shorten your roof's lifespan and lead to unnecessary expenses. At some point, a simple repair is no longer an option, and the damage to your roof might require a total replacement. You should contact Texas Select Construction if you notice anything wrong with your commercial roof so we can fix the damage.
Repairing a commercial roof is beneficial for numerous reasons, including:
Extend the roof's life

– You can extend the lifespan of your roof with a timely repair. Although it might be an expense you weren't anticipating, making the necessary repairs now can save you money later.

Provides peace of mind

– You can have peace of mind knowing the project is in the hands of an experienced roofing contractor. Instead of trying to fix the problem yourself, let us complete the job efficiently so you can focus on other aspects of running your business.

Identify weak spots

– A knowledgeable roofing professional can identify problem areas in the roof before they become bigger issues. Addressing structural damage, leaking water, and other problems reduce the risk of further complications.

Save money

– You can save money by doing repairs immediately after a strong storm or flying debris leaves your roof in shambles. If a replacement isn't necessary, getting a repair can save you money by preventing more damage from a gaping hole or missing tiles.

Adequate protection

– A timely repair protects everything in your office building from harsh weather and temperatures. Your roof must remain intact and functional to do its job. Making smaller repairs can prevent water damage, maintain a comfortable working environment, and keep rodents and other pests out of the building.

Avoid hazards

– Mold and mildew can grow if you don't address a leaky roof. It can compromise the structure and cause severe medical problems for anyone exposed to mold spores and particles in the air. A repair can save your roof and potentially avoid a mold-related health problem.

Improved functionality

– Your roof is more functional and saves you money with adequate maintenance. Maintenance doesn't only involve inspections. You must repair anything you find that could lead to future problems. A durable roof improves functionality while extending the life of the overall structure and lowering the cost of repairs.
Emergency Roof Repair Services
When disaster strikes, you can count on Texas Select Construction to repair the damage. We provide 24/7 emergency roofing services to restore your roof after intense storms. We can inspect your roof for free within 24 hours and locate structural issues, water leaks, and other damage. Our experienced team will then provide a formal proposal to address any major problems and prevent additional damage.
Our emergency services can address storm damage on the roofs of any commercial property, from condominiums and apartment complexes to retail stores and restaurants. Not all storms cause significant issues requiring immediate roof repairs. However, you should contact us immediately if you notice any damage, such as:
Lightning strikes

– Lightning can compromise the integrity of the roof's structure, leaving your commercial building vulnerable to water leaks and ceiling collapses.

Fire damage

– Although many roofing systems are fire resistant, damage can occur with exposure to extreme heat or flames. An emergency repair might be necessary to replace decking, shingles, or underlayment affected by a fire.

Strong winds

– Wind can blow tiles or shingles off the roof if strong enough. It might expose the commercial space's attic and other interior areas to the outside elements.

Leaking water

– Minor leaks can become catastrophic problems if unaddressed. Flooding can occur, damaging the inside of a building and leading to mold growth.

Tree damage

– Fallen branches and trees can cause significant damage to roofs. It might puncture holes in the roof deck, affect the structural integrity, and allow pests and debris to access the commercial building.

Mold

– Mold can develop for various reasons. It can grow and spread if left alone, creating health risks for building occupants. Locating the source of mold growth, such as water build-up, can address the issue and prevent further damage.

Severe storms

– Severe storms can cause numerous issues requiring emergency repairs. You should consider contacting Texas Select Construction to identify and fix damage after extreme storms.

Debris

– Storms can leave branches, leaves, dirt, and other debris on roofs. Debris build-up is more than just unsightly. It can cause structural problems from the extra weight or mold growth. Cleaning up the mess is necessary, so it doesn't remain on the roof for weeks or months.

Collapsing structure

– Sometimes, a damaged roof is at risk of collapsing. Extensive water damage, fallen trees, significant condensation, and other environmental factors add more weight than the roof can handle. An emergency repair is crucial to maintain the structure and avoid injuries and property damage.
Insurance Claims for Roof Repair
You might have to deal with the time-consuming process of filing a claim after a storm. It's often stressful to handle, especially as a business owner. You already have other responsibilities and might not have the time to assess the damage.
At Texas Select Construction, we guide our customers on insurance claims for a more seamless process. Let us inspect your roof to determine the location and extent of the damage.
We will create a Property Inspection Report you can refer to when you file your claim. We can also be there when the insurance adjuster inspects the roof for damage needing repairs. We will ensure they don't miss anything. After receiving approval, we will get started on the project.
Contact Us About Our Commercial Roof Repair Services
Repairing the roof on your commercial property offers various benefits. With the appropriate preventative measures, you can save time and money down the road if real issues arise. You should be free to run your business without unnecessary interruptions to daily operations.
At Texas Select Construction, our team of professional commercial roofing contractors can inspect your property and suggest services suited to your needs. We can take on any project, big or small, and complete it within your budget and deadline.
Call us at 817-770-0744 for a free inspection of your commercial roof in Fort Worth.
SCHEDULE YOUR FREE ROOF INSPECTION TODAY!
Hire A Team of Roofing Experts
You Can Trust